previously on
Today, when using peer to create a channel, the following error was reported
2021-07-02 10:27:43.446 CST [common.deliver] Handle -> WARN 01a Error reading from 192.168.81.134:46572: rpc error: code = Canceled desc = context canceled
2021-07-02 10:27:43.447 CST [comm.grpc.server] 1 -> INFO 01b streaming call completed grpc.service=orderer.AtomicBroadcast grpc.method=Deliver grpc.peer_address=192.168.81.134:46572 error="rpc error: code = Canceled desc = context canceled" grpc.code=Canceled grpc.call_duration=6.21135ms
2021-07-02 10:27:45.623 CST [cauthdsl] deduplicate -> ERRO 01c Principal deserialization failure (MSP OrdererMSP is unknown) for identity 0
2021-07-02 10:27:45.623 CST [orderer.common.broadcast] ProcessMessage -> WARN 01d [channel: mychannel] Rejecting broadcast of config message from 192.168.81.134:46578 because of error: implicit policy evaluation failed - 0 sub-policies were satisfied, but this policy requires 1 of the 'Writers' sub-policies to be satisfied: permission denied
2021-07-02 10:27:45.623 CST [comm.grpc.server] 1 -> INFO 01e streaming call completed grpc.service=orderer.AtomicBroadcast grpc.method=Broadcast grpc.peer_address=192.168.81.134:46578 grpc.code=OK grpc.call_duration=2.682517ms

problem analysis
Search Baidu and google: (0 sub policies were satisfied, but this policy requires 1 of the 'Admins' sub policies to be)
It is said on the Internet that the following methods are not right, at least not right for me:
1. Solution: configtx Yaml capabilities paragraph is incorrect, refer to the official version; In fact, I think it doesn't matter whether you add it or not. Finally, the successful configtx JSON, I didn't write this paragraph either
2. The reason is that the channel name used when generating the genesis block through the configtxgen command is the same as the channel name used when creating the channel; I'm creating the genesis block The block file does not carry - channelID name. The command used is... / bin / configtxgen - profile configtx json -profile TwoOrgsOrdererGenesis -outputBlock ./ genesis. block; testchild is automatically selected by default
There are three reasons that should be investigated correctly
1. Is the LocalMSPID of the orderer in the configuration file consistent? For example, I use OrdererMSP, but in configtx The OrderersMSP is written in JSON (which is also a problem caused by the fact that it is not defined as a template)
2. One is that I generate genesis The configuration file is not specified during block; Use in case of error:... / bin / configtxgen - profile twoorgorderergenesis - outputblock/ genesis.block -channelID mychannel; The correct should be:... / bin / configtxgen - profile configtx json -profile TwoOrgsOrdererGenesis -outputBlock ./ genesis.block
3. Check configtx JSON file, because I'm a configtx generated by the web backend JSON, this configtx JSON is in the form of a configuration file. When calling asynchronously, some parameters start with @ 4. It doesn't handle asynchrony well. Before the template is replaced, it is used to generate genesis Block, of course, it will report an error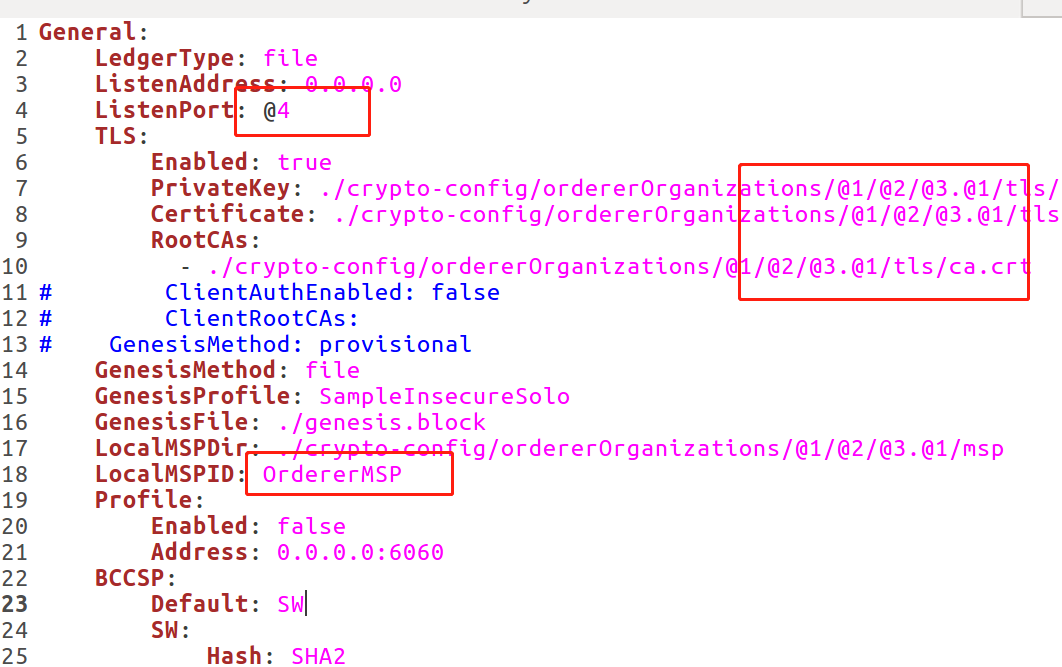 Finally, I can make complaints about what orderer has done.
ERRO 01c Principal deserialization failure (MSP OrdererMSP is unknown) for identity 0
2021-07-02 10:27:45.623 CST [orderer.common.broadcast] ProcessMessage -> WARN 01d [channel: mychannel] Rejecting broadcast of config message from 192.168.81.134:46578 because of error: implicit policy evaluation failed - 0 sub-policies were satisfied, but this policy requires 1 of the 'Writers' sub-policies to be satisfied: permission denied

This prompt is also reported for the above problem. It is also prompted when a node does not have permission.
Finally, post the configtx I finally generated json
{
	"Organizations": [
		{
			"Name": "OrderersMSP",
			"ID": "OrderersMSP",
			"MSPDir": "./crypto-config/ordererOrganizations/zeng.com/msp",
			"Policies": {
				"Readers": {
					"Type": "Signature",
					"Rule": "OR('OrderersMSP.member')"
				},
				"Writers": {
					"Type": "Signature",
					"Rule": "OR('OrderersMSP.member')"
				},
				"Admins": {
					"Type": "Signature",
					"Rule": "OR('OrderersMSP.admin')"
				}
			}
		},
		{
			"Name": "Org1MSP",
			"ID": "Org1MSP",
			"MSPDir": "./crypto-config/peerOrganizations/org1.zeng.com/msp",
			"Policies": {
				"Readers": {
					"Type": "Signature",
					"Rule": "OR('Org1MSP.admin', 'Org1MSP.peer', 'Org1MSP.client')"
				},
				"Writers": {
					"Type": "Signature",
					"Rule": "OR('Org1MSP.admin', 'Org1MSP.client')"
				},
				"Admins": {
					"Type": "Signature",
					"Rule": "OR('Org1MSP.admin')"
				}
			},
			"AnchorPeers": []
		},
		{
			"Name": "Org2MSP",
			"ID": "Org2MSP",
			"MSPDir": "./crypto-config/peerOrganizations/org2.zeng.com/msp",
			"Policies": {
				"Readers": {
					"Type": "Signature",
					"Rule": "OR('Org2MSP.admin', 'Org2MSP.peer', 'Org2MSP.client')"
				},
				"Writers": {
					"Type": "Signature",
					"Rule": "OR('Org2MSP.admin', 'Org2MSP.client')"
				},
				"Admins": {
					"Type": "Signature",
					"Rule": "OR('Org2MSP.admin')"
				}
			},
			"AnchorPeers": []
		}
	],
	"Orderer": {
		"OrdererType": "solo",
		"Addresses": [
			"orderer.zeng.com:7050"
		],
		"BatchTimeout": "2s",
		"BatchSize": {
			"MaxMessageCount": 10,
			"AbsoluteMaxBytes": "99 MB",
			"PreferredMaxBytes": "512 KB"
		},
		"Organizations": null,
		"Policies": {
			"Readers": {
				"Type": "ImplicitMeta",
				"Rule": "ANY Readers"
			},
			"Writers": {
				"Type": "ImplicitMeta",
				"Rule": "ANY Writers"
			},
			"Admins": {
				"Type": "ImplicitMeta",
				"Rule": "MAJORITY Admins"
			},
			"BlockValidation": {
				"Type": "ImplicitMeta",
				"Rule": "ANY Writers"
			}
		}
	},
	"Application": {
		"Organizations": null
	},
	"Profiles": {
		"TwoOrgsOrdererGenesis": {
			"Orderer": {
				"OrdererType": "solo",
				"Addresses": [
					"orderer.zeng.com:7050"
				],
				"BatchTimeout": "2s",
				"BatchSize": {
					"MaxMessageCount": 10,
					"AbsoluteMaxBytes": "99 MB",
					"PreferredMaxBytes": "512 KB"
				},
				"Organizations": {
					"Name": "OrderersMSP",
					"ID": "OrderersMSP",
					"MSPDir": "./crypto-config/ordererOrganizations/zeng.com/msp",
					"Policies": {
						"Readers": {
							"Type": "Signature",
							"Rule": "OR('OrderersMSP.member')"
						},
						"Writers": {
							"Type": "Signature",
							"Rule": "OR('OrderersMSP.member')"
						},
						"Admins": {
							"Type": "Signature",
							"Rule": "OR('OrderersMSP.admin')"
						}
					}
				},
				"Policies": {
					"Readers": {
						"Type": "ImplicitMeta",
						"Rule": "ANY Readers"
					},
					"Writers": {
						"Type": "ImplicitMeta",
						"Rule": "ANY Writers"
					},
					"Admins": {
						"Type": "ImplicitMeta",
						"Rule": "MAJORITY Admins"
					},
					"BlockValidation": {
						"Type": "ImplicitMeta",
						"Rule": "ANY Writers"
					}
				}
			},
			"Consortiums": {
				"SampleConsortium": {
					"Organizations": [
						{
							"Name": "Org1MSP",
							"ID": "Org1MSP",
							"MSPDir": "./crypto-config/peerOrganizations/org1.zeng.com/msp",
							"AnchorPeers": []
						},
						{
							"Name": "Org2MSP",
							"ID": "Org2MSP",
							"MSPDir": "./crypto-config/peerOrganizations/org2.zeng.com/msp",
							"AnchorPeers": []
						}
					]
				}
			}
		},
		"TwoOrgsChannel": {
			"Consortium": "SampleConsortium",
			"Application": {
				"Organizations": [
					{
						"Name": "Org1MSP",
						"ID": "Org1MSP",
						"MSPDir": "./crypto-config/peerOrganizations/org1.zeng.com/msp",
						"AnchorPeers": []
					},
					{
						"Name": "Org2MSP",
						"ID": "Org2MSP",
						"MSPDir": "./crypto-config/peerOrganizations/org2.zeng.com/msp",
						"AnchorPeers": []
					}
				]
			}
		}
	}
}

Reference link