Description:
I have done a bookkeeping APP before. It is easy to practice. It is developed with Eclipse;
Recently, I want to improve this APP, add some new functions, and choose Android Studio to develop it;
APP has improved a part of it. Now I want to sort out and record the functions that have been done.
Design sketch:
You can slide the menu manually
You can also switch by clicking the head menu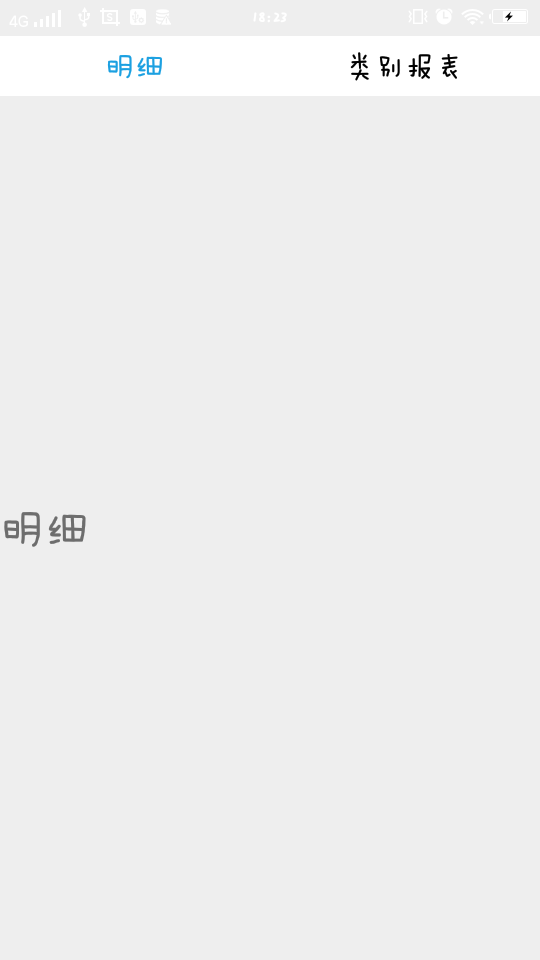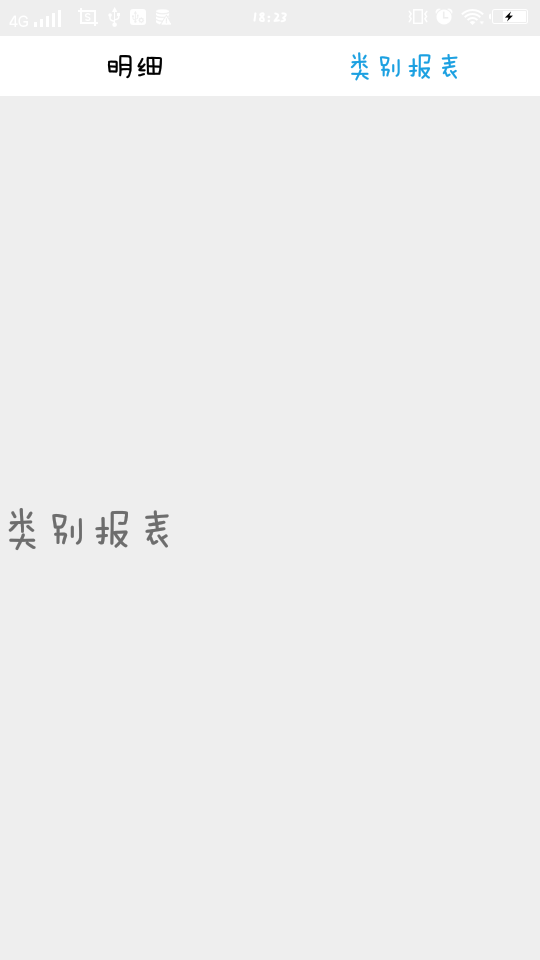 Specific implementation code:
Foreground code (activity main. XML):
 1

 <?xml version=

"

1.0

"

 encoding=

"

utf-8

"

?>


 2

 <LinearLayout xmlns:android=

"

http://schemas.android.com/apk/res/android

"




 3

     android:layout_width=

"

match_parent

"




 4

     android:layout_height=

"

match_parent

"




 5

     android:orientation=

"

vertical

"

>


 6

 


 7

     <

LinearLayout


 8

         android:layout_width=

"

match_parent

"




 9

         android:layout_height=

"

40dp

"




10

         android:layout_marginTop=

"

1dp

"




11

         android:background=

"

@android:color/white

"




12

         android:baselineAligned=

"

false

"




13

         android:gravity=

"

center_vertical

"




14

         android:orientation=

"

horizontal

"




15

         android:paddingBottom=

"

5dp

"




16

         android:paddingTop=

"

5dp

"

>


17

 


18

         <!--detail Tab-->


19

         <

TextView


20

             android:id=

"

@+id/item_detail

"




21

             android:layout_width=

"

0dp

"




22

             android:layout_height=

"

match_parent

"




23

             android:layout_weight=

"

1

"




24

             android:gravity=

"

center_horizontal|center_vertical

"




25

             android:text=

"

@string/detail_tab

"




26

             android:textColor=

"

@color/main_tab_text_color

"




27

             android:textSize=

"

20dp

"

/>


28

 


29

         <!--category report Tab-->


30

         <

TextView


31

             android:id=

"

@+id/item_category_report

"




32

             android:layout_width=

"

0dp

"




33

             android:layout_height=

"

match_parent

"




34

             android:layout_weight=

"

1

"




35

             android:gravity=

"

center_horizontal|center_vertical

"




36

             android:text=

"

@string/category_report_tab

"




37

             android:textColor=

"

@color/main_tab_text_color

"




38

             android:textSize=

"

20dp

"

/>


39

     </LinearLayout>


40

 


41

     <

android.support.v4.view.ViewPager


42

         android:id=

"

@+id/mainViewPager

"




43

         android:layout_width=

"

match_parent

"




44

         android:layout_height=

"

0dp

"




45

         android:layout_weight=

"

1

"

/>


46

 </LinearLayout>
Main interface code (MainActivity.java):
  1

 

package

 com.hyl.acccountbookdemo;


  2

 


  3

 

import

 android.graphics.Color;


  4

 

import

 android.os.Bundle;


  5

 

import

 android.support.v4.app.Fragment;


  6

 

import

 android.support.v4.app.FragmentManager;


  7

 

import

 android.support.v4.app.FragmentPagerAdapter;


  8

 

import

 android.support.v4.view.ViewPager;


  9

 

import

 android.support.v7.app.AppCompatActivity;


 10

 

import

 android.view.View;


 11

 

import

 android.widget.TextView;


 12

 


 13

 

import

 java.util.ArrayList;


 14

 

import

 java.util.List;


 15

 


 16

 

/**




 17

 

 * @programName: MainActivity.java


 18

 

 * @programFunction: Recording of income and expenditure


 19

 

 * @createDate: 2018/09/25


 20

 

 * 

@author

: AnneHan


 21

 

 * 

@version

:


 22

 

 * xx.   yyyy/mm/dd   ver    author    comments


 23

 

 * 01.   2018/09/25   1.00   AnneHan   New Create


 24

  

*/




 25

 

public

 

class

 MainActivity 

extends

 AppCompatActivity 

implements

 View.OnClickListener {


 26

     

private

 TextView item_detail, item_category_report;


 27

     

private

 ViewPager vp;


 28

     

private

 OneFragment oneFragment;


 29

     

private

 TwoFragment twoFragment;


 30

     

private

 List<Fragment> mFragmentList = 

new

 ArrayList<Fragment>

();


 31

     

private

 FragmentAdapter mFragmentAdapter;


 32

 


 33

 

    @Override


 34

     

protected

 

void

 onCreate(Bundle savedInstanceState) {


 35

         

super

.onCreate(savedInstanceState);


 36

 

        setContentView(R.layout.activity_main);


 37

 


 38

 

        initViews();


 39

 


 40

         mFragmentAdapter = 

new

 FragmentAdapter(

this

.getSupportFragmentManager(), mFragmentList);


 41

         vp.setOffscreenPageLimit(2);

//

ViewPager Cache of 2 frames




 42

 

        vp.setAdapter(mFragmentAdapter);


 43

         vp.setCurrentItem(0);

//

Initial setup ViewPager First frame selected




 44

         item_detail.setTextColor(Color.parseColor("#1ba0e1"

));


 45

 


 46

         

//

ViewPager Listening events for




 47

         vp.setOnPageChangeListener(

new

 ViewPager.OnPageChangeListener() {


 48

 

            @Override


 49

             

public

 

void

 onPageScrolled(

int

 position, 

float

 positionOffset, 

int

 positionOffsetPixels) {


 50

 


 51

 

            }


 52

 


 53

 

            @Override


 54

             

public

 

void

 onPageSelected(

int

 position) {


 55

                 

/*

This method is called when the page is selected

*/




 56

 

                changeTextColor(position);


 57

 

            }


 58

 


 59

 

            @Override


 60

             

public

 

void

 onPageScrollStateChanged(

int

 state) {


 61

                 

/*

This method is called when the state changes, and arg0 has three states (0, 1, 2).


 62

 

                arg0==1 Time is slipping,


 63

 

                arg0==2 It's time to slide,


 64

 

                arg0==0 Time implied that nothing was done.

*/




 65

 

            }


 66

 

        });


 67

 

    }


 68

 


 69

     

/**




 70

 

     * Initialize layout View


 71

      

*/




 72

     

private

 

void

 initViews() {


 73

         item_detail =

 (TextView) findViewById(R.id.item_detail);


 74

         item_category_report =

 (TextView) findViewById(R.id.item_category_report);


 75

 


 76

         item_detail.setOnClickListener(

this

);


 77

         item_category_report.setOnClickListener(

this

);


 78

 


 79

         vp =

 (ViewPager) findViewById(R.id.mainViewPager);


 80

         oneFragment = 

new

 OneFragment();


 81

         twoFragment = 

new

 TwoFragment();


 82

         

//

to FragmentList Add data




 83

 

        mFragmentList.add(oneFragment);


 84

 

        mFragmentList.add(twoFragment);


 85

 

    }


 86

 


 87

     

/**




 88

 

     * Click the header Text to dynamically modify the content of ViewPager


 89

      

*/




 90

 

    @Override


 91

     

public

 

void

 onClick(View v) {


 92

         

switch

 (v.getId()) {


 93

             

case

 R.id.item_detail:


 94

                 vp.setCurrentItem(0, 

true

);


 95

                 

break

;


 96

             

case

 R.id.item_category_report:


 97

                 vp.setCurrentItem(1, 

true

);


 98

                 

break

;


 99

 

        }


100

 

    }


101

 


102

     

public

 

class

 FragmentAdapter 

extends

 FragmentPagerAdapter {


103

 


104

         List<Fragment> fragmentList = 

new

 ArrayList<Fragment>

();


105

 


106

         

public

 FragmentAdapter(FragmentManager fm, List<Fragment>

 fragmentList) {


107

             

super

(fm);


108

             

this

.fragmentList =

 fragmentList;


109

 

        }


110

 


111

 

        @Override


112

         

public

 Fragment getItem(

int

 position) {


113

             

return

 fragmentList.get(position);


114

 

        }


115

 


116

 

        @Override


117

         

public

 

int

 getCount() {


118

             

return

 fragmentList.size();


119

 

        }


120

 


121

 

    }


122

 


123

     

/**




124

 

     * Change the color of the head navigation Text by the slide of ViewPager


125

 

     * 

@param

 position


126

      

*/




127

     

private

 

void

 changeTextColor(

int

 position) {


128

         

if

 (position == 0

) {


129

             item_detail.setTextColor(Color.parseColor("#1ba0e1"

));


130

             item_category_report.setTextColor(Color.parseColor("#000000"

));


131

         } 

else

 

if

 (position == 1

) {


132

             item_category_report.setTextColor(Color.parseColor("#1ba0e1"

));


133

             item_detail.setTextColor(Color.parseColor("#000000"

));


134

 

        }


135

 

    }


136

 }
You can create as many fragments as you need. Here is only one example. The others are the same
Create Fragment (fragment_one.xml):
 1

 <?xml version="1.0" encoding="utf-8"?>


 2

 <LinearLayout xmlns:android="http://schemas.android.com/apk/res/android"


 3

     android:layout_width="match_parent"


 4

     android:layout_height="match_parent">


 5

 


 6

     <

TextView


 7

         android:layout_width="wrap_content"


 8

         android:layout_height="wrap_content"


 9

         android:layout_gravity="center"


10

         android:text="@string/detail_tab"


11

         android:textSize="25sp"/>


12

 


13

 </LinearLayout>
Fragment interface code (OneFragment.java):
 1

 

package

 com.hyl.acccountbookdemo;


 2

 


 3

 

import

 android.os.Bundle;


 4

 

import

 android.support.v4.app.Fragment;


 5

 

import

 android.view.LayoutInflater;


 6

 

import

 android.view.View;


 7

 

import

 android.view.ViewGroup;


 8

 


 9

 

/**




10

 

 * @programName: OneFragment.java


11

 

 * @programFunction:


12

 

 * @createDate: 2018/09/25


13

 

 * 

@author

: AnneHan


14

 

 * 

@version

:


15

 

 * xx.   yyyy/mm/dd   ver    author    comments


16

 

 * 01.   2018/09/25   1.00   AnneHan   New Create


17

  

*/




18

 

public

 

class

 OneFragment 

extends

 Fragment {


19

 

    @Override


20

     

public

 View onCreateView(LayoutInflater inflater, ViewGroup container, Bundle savedInstanceState) {


21

         

//

 Inflate the layout for this fragment




22

         

return

 inflater.inflate(R.layout.fragment_one, container, 

false

);


23

 

    }


24

 }
        strings.xml:
<string name="detail_tab">Detailed</string>
<string name="category_report_tab">Class report</string>
        colors.xml:
<color name="main_tab_text_color">#000000</color>