1, Preparation (perl, nasm, cygwin)
For work needs, I need to compile openssl with (x86 | x64) - (static | shared) - (debug | release) options, and finally get 8 versions: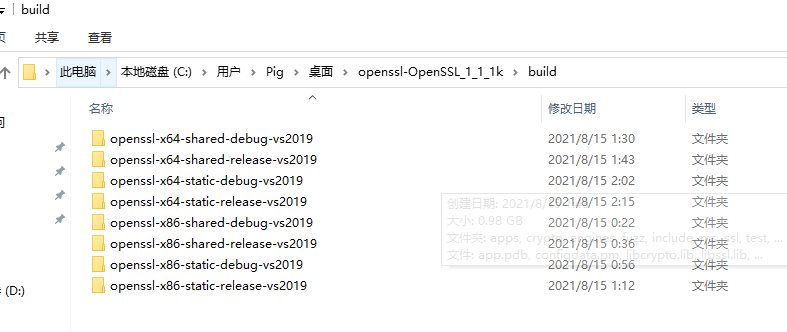 Download and install vs2019. Go to github to download the openssl source code. These two steps are not introduced...
To install perl, nasm, cygwin:
http://strawberryperl.com/
https://www.nasm.us
https://www.cygwin.com/
To install perl, you only need to go to the next step. nasm needs to add environment variables after successful installation to ensure that perl and nasm commands are available in cmd. You only need perl --help and nasm --help to verify.
Cygwin is a little troublesome. In addition to cygwin itself, you also need to install three command-line tools: p7zip, md5sum and patch
There are many methods. The command line should be downloadable, but I like the graphical interface. Here is a brief introduction to the methods. First, you need to install them
setup-x86_64.exe. After successful installation, there should be a shortcut on the desktop:

Never mind, let's run setup-x86 again_ 64.exe, enter the installation interface again: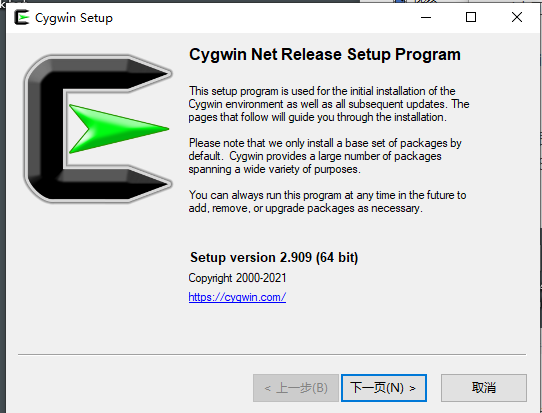 Go to the next step until you come to this interface: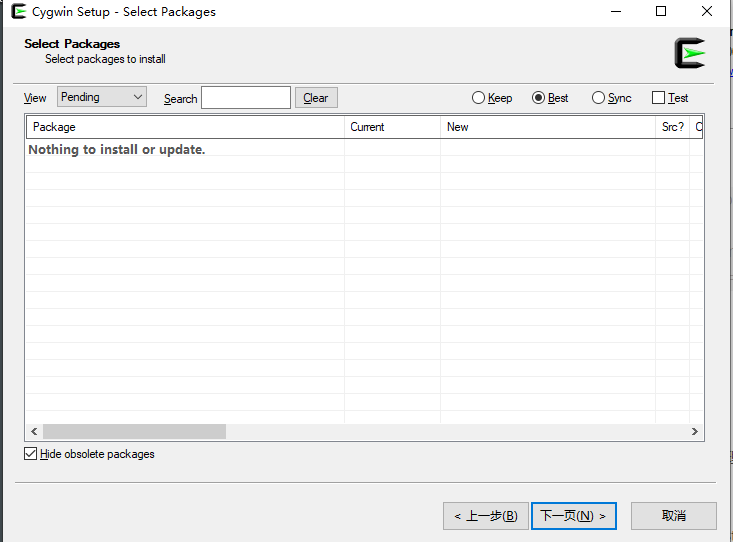 Select full in view, and then search for these three tools in search. md5sum is installed with cygwin by default, and the other two need to be installed by ourselves. The operation process is as follows: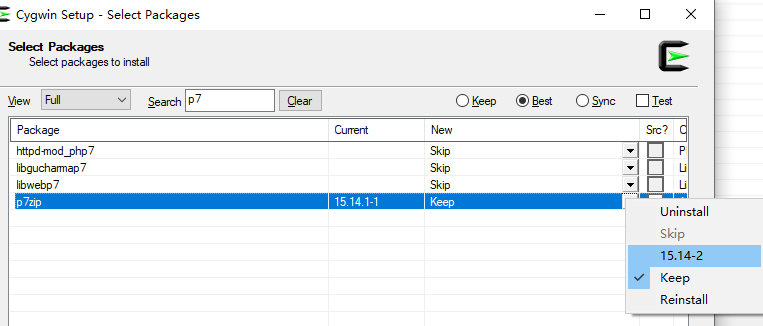 That's probably it. Choose the latest version and go to the next step all the way.
2, Prepare script
https://www.npcglib.org/~stathis/blog/precompiled-openssl/
This website provides a precompiled version of openssl, but the maximum is only vs2017 and openssl 1.1 0, I need vs2019 and openssl 1.1 1. But it doesn't matter. The website provides compilation scripts: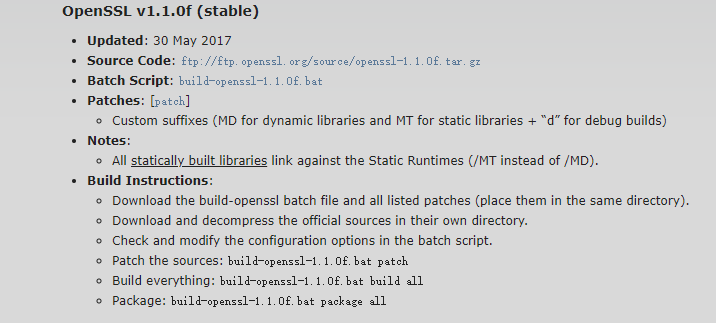 Next, you just need to download the batch script and patch file and modify them yourself. In fact, you don't have to look down.
However, in order to prevent me from forgetting later, I still record the steps here.
It provides batch processing and a patch. In fact, patch is optional. It is used to modify code and compile parameters. I modified the batch processing myself and deleted some codes and comments. You only need to modify the internal path, which should be able to use it directly. If my script doesn't work here, I suggest you download it directly from the website that provides the script, and then modify it yourself.
Run the script directly:
build-openssl-1.1.0k.bat build all

Then go to sleep and wake up.
3, Script code
You need to modify some version numbers and paths.
@echo off
SETLOCAL EnableExtensions EnableDelayedExpansion

:: VS edition
SET VS_VERSION=2019

:: VS VC route
SET VISUAL_STUDIO_VC=C:\Program Files (x86)\Microsoft Visual Studio\2019\Community\VC

:: Set CYGWIN_DIR to the location of your Cygwin root ( one level up from /bin )
:: Make sure you install the following cygwin packages: p7zip, md5sum, patch

SET CYGWIN_DIR=C:\cygwin64

SET PERL_ROOT=C:\Strawberry\perl\bin

rem ========================================================================================================

SET SEVENZIP_CMD=7z

SET MD5SUM_CMD=md5sum

SET DATE_CMD=date

SET PATCH_CMD=patch

SET DOS2UNIX_CMD=dos2unix

rem ========================================================================================================

SET BUILD_PROJECT=openssl

SET PROJECT_VERSION=1.1.0k

:: This needs to be changed to your own path
SET PROJECT_SRC_DIR=C:\Users\Pig\Desktop\openssl-OpenSSL_1_1_1k
SET PROJECT_BUILD_DIR=C:\Users\Pig\Desktop\openssl-OpenSSL_1_1_1k\build
SET PROJECT_INSTALL_DIR=C:\Users\Pig\Desktop\openssl-OpenSSL_1_1_1k\install

rem ========================================================================================================
rem == PLEASE DO NOT EDIT BELOW THIS LINE
rem ========================================================================================================

rem We load the config file first
call :loadconfig "%~dpn0"

rem we then carry on execution
call :execScript %0 %1 %2 %3 %4

ENDLOCAL

@exit /B 0

rem ========================================================================================================
rem == Pseudo-function to load config
rem ========================================================================================================

:loadconfig
rem set the variable HOSTNAME by executing the command (that's the computer's name)
FOR /F "delims=" %%a IN ('hostname') DO @set HOSTNAME=%%a

rem strip double quotes
set scriptFile=%1
set scriptFile=%scriptFile:"=%

rem We use two files: myScript.conf and myScript.<HOSTNAME>
rem myScript.<HOSTNAME> overrides myScript.conf
rem %~dpn0 is the full file minus the extension.
FOR %%c IN (
	"!scriptFile!.conf"
	"!scriptFile!.!HOSTNAME!"
) DO (
	IF EXIST "%%c" (
		ECHO.
		ECHO # Loading local configuration from: %%c
		ECHO.
		FOR /F "usebackq delims=" %%v IN (%%c) DO (set %%v)
	)
)

GOTO :eof

rem ========================================================================================================

:execScript
rem Use this pseudo-function to write the code of your main script
SETLOCAL EnableExtensions EnableDelayedExpansion

SET scriptName=%1
SET arg[0]=%2
SET arg[1]=%3
SET arg[2]=%4
SET arg[3]=%5

:: ATTENTION: this is down here because out-of-source builds are not supported DO NOT CHANGE IT!
:: SET PROJECT_BUILD_DIR=!PROJECT_SRC_DIR!\build

IF "!SEVENZIP_CMD_OPTIONS!" == "" (
	SET SEVENZIP_CMD_OPTIONS=a -r -mx9
)

FOR /F "delims=" %%a IN ('!CYGWIN_DIR!/bin/cygpath -p -u !SEVENZIP_CMD!') DO @set __SEVENZIP_CMD=%%a


IF "!arg[0]!" == "" GOTO usage
IF NOT EXIST "!PROJECT_SRC_DIR!" (
	ECHO.
	CALL :exitB "ERROR: Source directory !PROJECT_SRC_DIR! does not exist or does not contain the !BUILD_PROJECT! sources. Aborting."
	GOTO :eof
)

IF "!VS_VERSION!" == "2019" (
	SET VISUAL_STUDIO_VC=!VISUAL_STUDIO_VC!\Auxiliary\Build
	pushd "!VISUAL_STUDIO_VC!\..\..\..\Common7\Tools\"
	call "!VISUAL_STUDIO_VC!\..\..\..\Common7\Tools\vsdevcmd.bat" -clean_env
	popd
)
	
IF NOT EXIST "!VISUAL_STUDIO_VC!\vcvarsall.bat" (
	ECHO.
	CALL :exitB "ERROR: !VISUAL_STUDIO_VC!\vcvarsall.bat does not exist. Aborting."
	GOTO :eof
)


IF "!DATE_CMD_OPTIONS!" == "" (
	SET DATE_CMD_OPTIONS=%%d %%b %%Y
)


SET argC=-1
FOR %%x in (%*) DO SET /A argC+=1

if /i "!arg[0]!" == "build" (

	if !argC! == 2 (

		if /i "!arg[1]!" == "all" (

			echo.
			echo You are about to build all permutations [x86^|x64] [static^|shared] [debug^|release]
			echo.

			timeout /t 5
					
			call :buildall
			goto :eof
			
		) else (
			goto usage
		)
		
	) else if !argC! == 4 (

		call :callArch !arg[1]! !arg[2]! !arg[3]!
		goto :eof
		
	) else (
		goto usage
	)
	
) else if /i "!arg[0]!" == "package" (

	if !argC! == 2 (

		if /i "!arg[1]!" == "all" (

			echo.
			echo You are about to package all permutations [x86^|x64] [static^|shared] [debug^|release]
			echo.

			timeout /t 5
			
			call :createPackage
			goto :eof
			
		) else (
			goto usage
		)
		
	) else if !argC! == 3 (
		
		echo.
		echo This feature is currently unsupported. Only "package all" is supported at this time.
		echo.
			
		goto usage
		
		REM set archGood=false
		REM if /i "!arg[1]!" == "x86" set archGood=true
		REM if /i "!arg[1]!" == "x64" set archGood=true

		REM if /i "!archGood!" == "true" (

			REM call :createPackage !arg[0]! !arg[1]!
			REM goto :eof
			
		REM ) else (
			REM goto usage
		REM )
	) else (
		goto usage
	)
	
) else if /i "!arg[0]!" == "patch" (
	call :patch !PROJECT_VERSION!
) else if /i "!arg[0]!" == "unpatch" (
	call :unpatch !PROJECT_VERSION!
) else if !argC! == 3 (
	call :callArch !arg[0]! !arg[1]! !arg[2]!
	GOTO :eof
) else (
	GOTO usage
)

ENDLOCAL
GOTO :eof

rem ========================================================================================================
:printConfiguration
SETLOCAL EnableExtensions EnableDelayedExpansion
SET PATH=!CYGWIN_DIR!\bin;!CYGWIN_DIR!\usr\bin;!PATH!

echo.
echo                    PATH: !PATH!
echo.

echo              VS_VERSION: !VS_VERSION!
echo        VISUAL_STUDIO_VC: !VISUAL_STUDIO_VC!
echo              CYGWIN_DIR: !CYGWIN_DIR!
echo.
bash -c "echo -n \"           SEVENZIP_CMD: \" & which !__SEVENZIP_CMD!"
echo    SEVENZIP_CMD_OPTIONS: !SEVENZIP_CMD_OPTIONS!
bash -c "echo -n \"             MD5SUM_CMD: \" & which !MD5SUM_CMD!"
bash -c "echo -n \"               DATE_CMD: \" & which !DATE_CMD!"
bash -c "echo -n \"              PATCH_CMD: \" & which !PATCH_CMD!"
echo.
echo           BUILD_PROJECT: !BUILD_PROJECT!
echo         PROJECT_VERSION: !PROJECT_VERSION!
echo         PROJECT_SRC_DIR: !PROJECT_SRC_DIR!
echo       PROJECT_BUILD_DIR: !PROJECT_BUILD_DIR!
echo     PROJECT_INSTALL_DIR: !PROJECT_INSTALL_DIR!
ENDLOCAL
goto :eof

rem ========================================================================================================

:callArch
set archGood=false
if /i "%1" == "x86" set archGood=true
if /i "%1" == "x64" set archGood=true
if /i "!archGood!" == "true" (

	set linkGood=false
	if /i "%2"=="static" set linkGood=true
	if /i "%2"=="shared" set linkGood=true

	if /i "!linkGood!" == "true" (

		set buildGood=false
		if /i "%3" == "debug" set buildGood=true
		if /i "%3" == "release" set buildGood=true

		if /i "!buildGood!" == "true" (
		
			call :build %1 %2 %3
			goto :eof
			
		)
	)
	
)
goto usage
goto :eof

rem ========================================================================================================

:usage
call :printConfiguration
ECHO: 
ECHO Error in script usage. The correct usage is:
ECHO:
ECHO     !scriptName! [patch^|unpatch] - apply/remove patches to the sources
ECHO     !scriptName! build [all^|x86^|x64] ^<[static^|shared] [debug^|release]^> - builds all or specific permutations
ECHO     !scriptName! package [all^|x86^|x64] ^<[static^|shared]^> - creates a package file
ECHO:    
GOTO :eof

rem ========================================================================================================

:unpatch
rem remove patches from the sources
call :patch %1 unpatch
goto :eof

:patch
rem patch sources
::
:: To create a patch for mkdef.pl:
:: $ diff -u "F:\openssl-1.0.1e-orig\util\mk1mf.pl" "F:\openssl-1.0.1e\util\mk1mf.pl" > "%SSBUILDER_ROOT%\misc\openssl-1.0.1e-mk1mf.pl.patch"
:: $ diff -u "F:\openssl-1.0.1e-orig\util\mkdef.pl" "F:\openssl-1.0.1e\util\mkdef.pl" > "%SSBUILDER_ROOT%\misc\openssl-1.0.1e-mkdef.pl.patch"
:: $ diff -u "F:\openssl-1.0.1e-orig\util\pl\VC-32.pl" "F:\openssl-1.0.1e\util\pl\VC-32.pl" > "%SSBUILDER_ROOT%\misc\openssl-1.0.1e-VC-32.pl.patch"
::
:: To apply the patch:
::   cd into the unmodified openssl-x.x.x source directory
::   patch [--dry-run] -p2 -i "D:\dev\ssbuilder\misc\openssl-1.0.1e-mkdef.pl.patch"
::   patch [--dry-run] -p2 -i "D:\dev\ssbuilder\misc\openssl-1.0.1e-mkdef.pl.patch"
::
SETLOCAL EnableExtensions EnableDelayedExpansion

if /i "%2" == "unpatch" (
	SET EXTRA_TEXT=Removing
	SET EXTRA_FLAGS=-R
) else (
	SET EXTRA_TEXT=Applying
)

SET PATH=!CYGWIN_DIR!\bin;!CYGWIN_DIR!\usr\bin;

SET CYGWIN=nodosfilewarning

ECHO.
ECHO !EXTRA_TEXT! patches to [!BUILD_PROJECT! v%~1] sources
ECHO.

pushd "!PROJECT_SRC_DIR!"

	call :applyPatch !BUILD_PROJECT!-%~1.patch
	
popd

ENDLOCAL
goto :eof

:applyPatch
SET PATCH_FILE=%~dp0
SET PATCH_FILE=!PATCH_FILE!%1

IF NOT EXIST "!PATCH_FILE!" (

	call :exitB "Patch: [!PATCH_FILE!] does not exist. Aborting."

) ELSE (

	!DOS2UNIX_CMD! "!PATCH_FILE!"
	!PATCH_CMD! --binary !EXTRA_FLAGS! -N -p1 -i "!PATCH_FILE!"
	
)
goto :eof

rem ========================================================================================================

:createPackage

call :printConfiguration

echo:
echo Packaging OpenSSL Library
echo:

SET DIST_DIR=!PROJECT_INSTALL_DIR!\!BUILD_PROJECT!-!PROJECT_VERSION!-vs!VS_VERSION!

echo !DIST_DIR!

@mkdir !DIST_DIR!\bin 2>nul
@mkdir !DIST_DIR!\bin64 2>nul
@mkdir !DIST_DIR!\lib 2>nul
@mkdir !DIST_DIR!\lib64 2>nul
@mkdir !DIST_DIR!\include 2>nul
@mkdir !DIST_DIR!\include64 2>nul
@mkdir !DIST_DIR!\ssl 2>nul
@mkdir !DIST_DIR!\logs 2>nul

call :packagetype

echo:


ENDLOCAL
@exit /B 0

rem ========================================================================================================

:: %1 library type (e.g. static)
:packagetype

SET DST_DIST=!BUILD_PROJECT!-!PROJECT_VERSION!-vs!VS_VERSION!
SET DST_DIST_DIR=!PROJECT_INSTALL_DIR!\!DST_DIST!

for %%l in (static shared) do (
	for %%a in (x86 x64) do (
	
		if /i "%%a" == "x86" (
			SET BITS=32
			SET BITSTR=
		) else (
			SET BITS=64
			SET BITSTR=!BITS!
			SET PREFIX_WIN=!PREFIX_WIN!!BITS!
		)
		
		for %%b in (debug release) do (

			SET __ARCH=%%a
			SET __BUILD=%%b
			SET __LINK=%%l
			
			SET SRC_DIST_DIR=!PROJECT_INSTALL_DIR!\!BUILD_PROJECT!-!__ARCH!-!__LINK!-!__BUILD!-vs!VS_VERSION!

			echo [copy] !SRC_DIST_DIR! =^> !DST_DIST_DIR!
		
			if exist "!SRC_DIST_DIR!" (
						
				xcopy /Q /Y !SRC_DIST_DIR!\bin\*.dll !DST_DIST_DIR!\bin!BITSTR!\
				xcopy /Q /Y !SRC_DIST_DIR!\bin\*.lib !DST_DIST_DIR!\bin!BITSTR!\
				xcopy /Q /Y !SRC_DIST_DIR!\bin\*.pdb !DST_DIST_DIR!\bin!BITSTR!\
				xcopy /Q /Y !SRC_DIST_DIR!\bin\*.exe !DST_DIST_DIR!\bin!BITSTR!\
				xcopy /Q /Y !SRC_DIST_DIR!\lib\*.lib !DST_DIST_DIR!\lib!BITSTR!\
				xcopy /Q /Y !SRC_DIST_DIR!\lib\*.pdb !DST_DIST_DIR!\lib!BITSTR!\
				xcopy /Q /Y /E /I !SRC_DIST_DIR!\include !DST_DIST_DIR!\include!BITSTR!
				xcopy /Q /Y /E /I !SRC_DIST_DIR!\ssl !DST_DIST_DIR!\ssl
				xcopy /Q /Y /E /I !SRC_DIST_DIR!\html !DST_DIST_DIR!\html
				xcopy /Q /Y /E /I !SRC_DIST_DIR!\logs !DST_DIST_DIR!\logs
				
			)
			
		)
	)
)

echo Copied all files for: !BUILD_PROJECT! v!PROJECT_VERSION!

set README=!DST_DIST_DIR!\readme.precompiled.txt
echo !README!

pushd !PROJECT_INSTALL_DIR!

	SETLOCAL EnableExtensions EnableDelayedExpansion

	SET PATH=!CYGWIN_DIR!\bin;!CYGWIN_DIR!\usr\bin;!PATH!

	echo. > !README!
	bash -c "!DATE_CMD! +\"!DATE_CMD_OPTIONS!\"" >> !README!
	echo ====================================================================================================================== >> !README!	
	echo  url: http://www.npcglib.org/~stathis/blog/precompiled-openssl >> !README!	
	echo ====================================================================================================================== >> !README!
	echo These are custom pre-built OpenSSL Libraries v!PROJECT_VERSION! (http://www.openssl.org). >> !README!
	echo They are compiled with Cygwin/MSVC for 32/64-bit Windows, using Visual Studio !VS_VERSION!. >> !README!
	echo. >> !README!
	echo Please note that the OpenSSL Project (http://www.openssl.org) is the only official source of OpenSSL. >> !README!
	echo These builds are created for my own personal use and therefore you are utilizing them at your own risk. >> !README!
	echo My builds are unsupported and not endorsed by The OpenSSL Project. >> !README!
	echo. >> !README!
	echo I build these in the context of my own work and spare time,  >> !README!
	echo I do NOT charge any money, I do NOT make any money ... and NO I do NOT accept any donations^^! >> !README!
	echo If you really like OpenSSL, if it has helped you or your company in any way, >> !README!
	echo or you are feeling like giving back anyway, then please  >> !README!
	echo donate directly to the OpenSSL Project: https://www.openssl.org/support/donations.html >> !README!
	echo The developers and countless contributors deserve it^^!  >> !README!
	echo. >> !README!
	echo ------------------------------------------------------------------------------ >> !README!
	echo 32-bit OpenSSL Libraries [shared] [runtime: dynamic (/MD)]]>> !README!
	echo ------------------------------------------------------------------------------ >> !README!
	echo release runtime dlls: bin\libcryptoMD.dll bin\libsslMD.dll >> !README!
	echo  release import libs: lib\libcryptoMD.lib lib\libsslMD.lib >> !README!	
	echo   debug runtime dlls: bin\libcryptoMDd.dll bin\libsslMDd.dll >> !README!
	echo    debug import libs: lib\libcryptoMDd.lib lib\libsslMDd.lib >> !README!
	echo. >> !README!
	echo ------------------------------------------------------------------------------ >> !README!
	echo 32-bit OpenSSL Libraries [static] [runtime: static (/MT)]]>> !README!
	echo ------------------------------------------------------------------------------ >> !README!
	echo         release libs: lib\libcryptoMT.lib lib\libsslMT.lib >> !README!	
	echo           debug libs: lib\libcryptoMTd.lib lib\libsslMTd.lib >> !README!	
	echo. >> !README!
	echo ------------------------------------------------------------------------------ >> !README!
	echo 64-bit OpenSSL Libraries [shared] [runtime: dynamic (/MD)]]>> !README!
	echo ------------------------------------------------------------------------------ >> !README!
	echo release runtime dlls: bin64\libcryptoMD.dll bin64\libsslMD.dll >> !README!
	echo  release import libs: lib64\libcryptoMD.lib lib64\libsslMD.lib >> !README!	
	echo   debug runtime dlls: bin64\libcryptoMDd.dll bin64\libsslMDd.dll >> !README!
	echo    debug import libs: lib64\libcryptoMDd.lib lib64\libsslMDd.lib >> !README!
	echo. >> !README!
	echo ------------------------------------------------------------------------------ >> !README!
	echo 64-bit OpenSSL Libraries [static] [runtime: static (/MT)]]>> !README!
	echo ------------------------------------------------------------------------------ >> !README!
	echo         release libs: lib64\libcryptoMT.lib lib64\libsslMT.lib >> !README!	
	echo           debug libs: lib64\libcryptoMTd.lib lib64\libsslMTd.lib >> !README!	
	echo. >> !README!
	echo ====================================================================================================================== >> !README!
	echo. >> !README!
	echo If you have any comments or problems send me an email at: >> !README!
	echo stathis ^<stathis@npcglib.org^> >> !README!

	bash -c "cp -f \"!PROJECT_SRC_DIR!\AUTHORS\" \"!DST_DIST_DIR!\AUTHORS.txt\""
	bash -c "cp -f \"!PROJECT_SRC_DIR!\ACKNOWLEDGEMENTS\" \"!DST_DIST_DIR!\ACKNOWLEDGEMENTS.txt\""
	bash -c "cp -f \"!PROJECT_SRC_DIR!\CHANGES\" \"!DST_DIST_DIR!\CHANGES.txt\""
	bash -c "cp -f \"!PROJECT_SRC_DIR!\CONTRIBUTING\" \"!DST_DIST_DIR!\CONTRIBUTING.txt\""
	bash -c "cp -f \"!PROJECT_SRC_DIR!\README\" \"!DST_DIST_DIR!\README.txt\""
	bash -c "cp -f \"!PROJECT_SRC_DIR!\README.ECC\" \"!DST_DIST_DIR!\README.ECC.txt\""
	bash -c "cp -f \"!PROJECT_SRC_DIR!\FAQ\" \"!DST_DIST_DIR!\FAQ.txt\""
	bash -c "cp -f \"!PROJECT_SRC_DIR!\NEWS\" \"!DST_DIST_DIR!\NEWS.txt\""
	bash -c "cp -f \"!PROJECT_SRC_DIR!\NOTES.WIN\" \"!DST_DIST_DIR!\NOTES.WIN.txt\""
	bash -c "cp -f \"!PROJECT_SRC_DIR!\LICENSE\" \"!DST_DIST_DIR!\LICENSE.txt\""
	bash -c "cp -f \"!PROJECT_SRC_DIR!\FAQ\" \"!DST_DIST_DIR!\FAQ.txt\""
	
	set __FILENAME=!DST_DIST!

	set COMPRESSED_FILE=!__FILENAME!.7z

	echo.
	echo Packaging !BUILD_PROJECT! Library [v!PROJECT_VERSION!]
	echo ----------------------------------------------------------------------------
	echo [     Build in: !PROJECT_BUILD_DIR!] 
	echo [ Installation: !PROJECT_INSTALL_DIR!] 
	echo [    Packaging: !PROJECT_INSTALL_DIR!]
	echo [   Compressed: !COMPRESSED_FILE!]
	echo [       Readme: !README!]
	echo ----------------------------------------------------------------------------
	echo.

	echo Compressing with: !__SEVENZIP_CMD! !SEVENZIP_CMD_OPTIONS! !COMPRESSED_FILE! !DST_DIST!
	bash -c "!__SEVENZIP_CMD! !SEVENZIP_CMD_OPTIONS! !COMPRESSED_FILE! !DST_DIST!" 

	echo Compressing in: !COMPRESSED_FILE!

	IF EXIST !COMPRESSED_FILE! (
		
		for %%I in (!COMPRESSED_FILE!) do (
			SET /A _fsize=%%~zI / 1024 / 1024
		)
		
		!MD5SUM_CMD! !COMPRESSED_FILE! 1> !__FILENAME!.md5
		
		echo Generated md5sum !__FILENAME!.md5 [!_fsize!MB]

	)

	ENDLOCAL

popd

goto :eof

rem ========================================================================================================

:buildall



for %%a in (x86 x64) do (
	for %%l in (shared static) do (
		for %%b in (debug release) do (
			call :build %%a %%l %%b
		)
	)
)

goto :eof

rem ========================================================================================================

:: call :build <x86|x64> <static|shared> <debug|release>
:build
SET __ARCH=%~1
SET __LINK=%~2
SET __BUILD=%~3

if /i "!__ARCH!" == "x86" (
	SET BITS=32
	SET BIT_STR=
) else (
	SET BITS=64
	SET BIT_STR=64
)



echo:
echo Building OpenSSL Library [!__ARCH!] [!__LINK!] [!__BUILD!]
echo:

SETLOCAL EnableExtensions EnableDelayedExpansion

	IF "!VS_VERSION!" == "2019" (
		pushd "!VISUAL_STUDIO_VC!\..\..\..\Common7\Tools\"
		call "!VISUAL_STUDIO_VC!\..\..\..\Common7\Tools\vsdevcmd.bat" -clean_env
		popd
	)
	
	call "!VISUAL_STUDIO_VC!\vcvarsall.bat" !__ARCH!
	
	rem Place the linker and compiler of Visual Studio infront of any other binaries when searching
	rem SET PATH=!PATH!;!CYGWIN_DIR!\bin;!CYGWIN_DIR!\usr\bin;
	
	call :printConfiguration
	call :buildtype !__ARCH! !__LINK! !__BUILD!
	
ENDLOCAL
goto :eof


rem ========================================================================================================

:: call :build <x86|x64> <static|shared> <debug|release>
:buildtype
SET __ARCH=%~1
SET __LINK=%~2
SET __BUILD=%~3

SET CYGWIN=nodosfilewarning

if /i "!__ARCH!" == "x86" (
	SET BITS=32
	SET BIT_STR=
) else (
	SET BITS=64
	SET BIT_STR=64
)

IF NOT EXIST "!PROJECT_BUILD_DIR!" (
	mkdir "!PROJECT_BUILD_DIR!"
)


SET RUNTIME_SUFFIX=
if /i "!__LINK!" == "shared" (
	SET RUNTIME_SUFFIX=MD
)

if /i "!__LINK!" == "static" (
	SET RUNTIME_SUFFIX=MT
)

SET LIBSUFFIX=
if /i "!__BUILD!" == "debug" (
	SET LIBSUFFIX=d
)

SET RUNTIME_FULL_SUFFIX=!RUNTIME_SUFFIX!!LIBSUFFIX!

SET DLL_STR=
if /i "!__LINK!" == "shared" (
	SET DLL_STR=dll
)
	
SET INSTALL_DIR=!PROJECT_INSTALL_DIR!\!BUILD_PROJECT!-!__ARCH!-!__LINK!-!__BUILD!-vs!VS_VERSION!


SET B_CMD=perl !PROJECT_SRC_DIR!\Configure
SET COMMON_OPTIONS=enable-static-engine --prefix=!INSTALL_DIR! --openssldir=./ssl
SET MODE=VC-WIN


if /i "!__LINK!" == "shared" (
	SET COMMON_OPTIONS=!COMMON_OPTIONS! shared
)

if /i "!__LINK!" == "static" (
	SET COMMON_OPTIONS=!COMMON_OPTIONS! no-shared -static
)


if /i "!__BUILD!" == "debug" (
	SET MODE=!__BUILD!-!MODE!
)

if /i "!__ARCH!" == "x86" (
	SET MODE=!MODE!!BITS!
	SET COMMON_OPTIONS=!COMMON_OPTIONS! no-asm
) else (
	SET MODE=!MODE!!BITS!A
	SET COMMON_OPTIONS=!COMMON_OPTIONS! no-asm
)

SET BUILD_DIR=!PROJECT_BUILD_DIR!\!BUILD_PROJECT!-!__ARCH!-!__LINK!-!__BUILD!-vs!VS_VERSION!

IF NOT EXIST "!BUILD_DIR!" (
	mkdir "!BUILD_DIR!"
)

SET CONFIG_LOG_FILE=!BUILD_DIR!\!BUILD_PROJECT!-!__ARCH!-!__LINK!-!__BUILD!-vs!VS_VERSION!.config.log
SET BUILD_LOG_FILE=!BUILD_DIR!\!BUILD_PROJECT!-!__ARCH!-!__LINK!-!__BUILD!-vs!VS_VERSION!.build.log
SET TEST_LOG_FILE=!BUILD_DIR!\!BUILD_PROJECT!-!__ARCH!-!__LINK!-!__BUILD!-vs!VS_VERSION!.test.log
SET INSTALL_LOG_FILE=!BUILD_DIR!\!BUILD_PROJECT!-!__ARCH!-!__LINK!-!__BUILD!-vs!VS_VERSION!.install.log

ECHO. > !CONFIG_LOG_FILE!

SET B_CMD=!B_CMD! !MODE! !COMMON_OPTIONS! 

echo Commands: !B_CMD!

timeout /t 10

rem pushd !PROJECT_SRC_DIR!
pushd !BUILD_DIR!
echo Configured with: !B_CMD! > !CONFIG_LOG_FILE! 2>&1
!B_CMD! >> !CONFIG_LOG_FILE! 2>&1

SET MK_CMD=nmake

ECHO. > !BUILD_LOG_FILE!

!MK_CMD! > !BUILD_LOG_FILE! 2>&1
rem !MK_CMD! list-tests > !TEST_LOG_FILE! 2>&1
!MK_CMD! test >> !TEST_LOG_FILE! 2>&1

IF NOT EXIST "!INSTALL_DIR!" (
	mkdir "!INSTALL_DIR!"
)
 
rem !MK_CMD! DESTDIR=!INSTALL_DIR! install >> !INSTALL_LOG_FILE! 2>&1
!MK_CMD! install_sw >> !INSTALL_LOG_FILE! 2>&1

rem Install the OpenSSL configuration dir (./ssl)
!MK_CMD! install_ssldirs >> !INSTALL_LOG_FILE! 2>&1

rem Install the OpenSSL documentation dir (./html)
!MK_CMD! install_html_docs >> !INSTALL_LOG_FILE! 2>&1


IF NOT EXIST "!INSTALL_DIR!\logs" (
	mkdir "!INSTALL_DIR!\logs"
)

xcopy /Q /Y !CONFIG_LOG_FILE! !INSTALL_DIR!\logs\ >> !INSTALL_LOG_FILE! 2>&1
xcopy /Q /Y !BUILD_LOG_FILE! !INSTALL_DIR!\logs\ >> !INSTALL_LOG_FILE! 2>&1
xcopy /Q /Y !TEST_LOG_FILE! !INSTALL_DIR!\logs\ >> !INSTALL_LOG_FILE! 2>&1
xcopy /Q /Y !INSTALL_LOG_FILE! !INSTALL_DIR!\logs\ >> !INSTALL_LOG_FILE! 2>&1

popd

goto :eof

rem ========================================================================================================

:toLower str -- converts uppercase character to lowercase
::           -- str [in,out] - valref of string variable to be converted
:$created 20060101 :$changed 20080219 :$categories StringManipulation
:$source http://www.dostips.com
if not defined %~1 EXIT /b
for %%a in ("A=a" "B=b" "C=c" "D=d" "E=e" "F=f" "G=g" "H=h" "I=i"
            "J=j" "K=k" "L=l" "M=m" "N=n" "O=o" "P=p" "Q=q" "R=r"
            "S=s" "T=t" "U=u" "V=v" "W=w" "X=x" "Y=y" "Z=z" "??
            "?? "??) do (
    call set %~1=%%%~1:%%~a%%
)
EXIT /b

rem ========================================================================================================

:: %1 an error message
:exitB
echo:
echo Error: %1
echo:
echo Contact stathis@npcglib.org
@exit /B 0