General database role privilege handling in SQL Server
Recently, we have been doing database privilege cleanup with colleagues, mainly by deleting some accounts, removing the larger privileges of some accounts, etc. For example, some have db_owner privileges, we remove the database role db_owner of the accounts and grant the minimum required related privileges.But it's all manual, unpleasant, and slowly advancing.In addition, for ease of management and refinement, we have added 6 common database roles in addition to the common database roles.As shown in the following screenshot.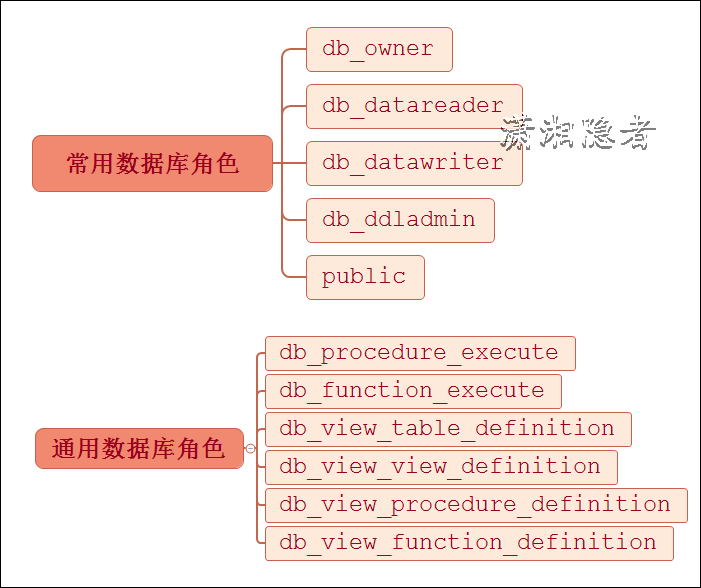 In addition, to reduce the authorization workload and some duplicate physical effort, we created a job that executes a stored procedure, db_common_role_grant_rigths, periodically every day, with the following logic:
1: Traverse through all user databases (excluding system databases and some special databases) and find that these common database roles do not exist in the database, then create the relevant database roles.
2: Traverse all user databases to authorize related database roles, for example, if a new stored procedure is found, the db_procedure_execute database role is not authorized.Then perform the authorization operation.
Of course, it is still in the testing and application stage, and will continue to improve related functions in the future according to specific related needs.
--==================================================================================================================

--        ScriptName            :            db_common_role_grant_rigths.

sql

--        Author                :            Xiao Xiang Reclusive    

--        CreateDate            :            2018-09-13

--        Description           :            Create Database Roles db_procedure_execute And grant relevant privileges to roles.

--        Note                  :            

/******************************************************************************************************************

        Parameters              :                                    Parameter Description

********************************************************************************************************************

             @RoleName          :            Role Name

********************************************************************************************************************

   Modified Date    Modified User     Version                 Modified Reason

********************************************************************************************************************

    2018-09-12       Xiao Xiang Yin Zhi * V01.00.00 * Create a new script.

    2018-09-12       Xiao Xiang Yin Li V01.00.01 Note the effective range of @@ROWCOUNT; solve the circular logic problem.

    2018-09-26       Xiao Xiangyin  V01.00.02  Correct the function problem of FT(CLR_TABLE_VALUED_FUNCTION).Assembly (CLR) table-valued functions

*******************************************************************************************************************/

--===================================================================================================================

USE

 YourSQLDba;

GO

 

 

IF

 

EXISTS

 (

SELECT

 1 

FROM

 sys.procedures 

WHERE

 type=

'P'

 

AND

 name=

'db_common_role_grant_rigths'

)

BEGIN

    

DROP

 

PROCEDURE

 Maint.db_common_role_grant_rigths;

END

GO

 

CREATE

 

PROCEDURE

 Maint.db_common_role_grant_rigths

AS

BEGIN

 

DECLARE

 @database_id    

INT

;

DECLARE

 @database_name  sysname;

DECLARE

 @cmdText        NVARCHAR(

MAX

);

DECLARE

 @prc_text        NVARCHAR(

MAX

);

DECLARE

 @RowIndex        

INT

;

 

IF

 OBJECT_ID(

'TempDB.dbo.#databases'

) 

IS

 

NOT

 

NULL

    

DROP

 

TABLE

 dbo.#databases;

 

CREATE

 

TABLE

 #databases

(

    database_id        

INT

,

    database_name   sysname

)

 

IF

 OBJECT_ID(

'TempDB.dbo.#sql_text'

) 

IS

 

NOT

 

NULL

    

DROP

 

TABLE

 dbo.#sql_text;

 

 

CREATE

 

TABLE

 #sql_text

(

    sql_id      

INT

 

IDENTITY

(1,1),

    sql_cmd     NVARCHAR(

MAX

)

)

 

INSERT  

INTO

 #databases

SELECT

  database_id ,

        name

FROM

    sys.databases

WHERE

   name 

NOT

 

IN

 ( 

'master'

, 

'tempdb'

, 

'model'

, 

'msdb'

,

                        

'distribution'

, 

'ReportServer'

,

                        

'ReportServerTempDB'

, 

'YourSQLDba'

 )

        

AND

 

state

 = 0; --state_desc=ONLINE 

 

 

--Start looping through each user database (excluding related databases above)

WHILE

 1= 1

BEGIN

 

 

    

SELECT

 

TOP

 1 @database_name= database_name   

    

FROM

 #databases

    

ORDER

 

BY

 database_id;

 

    

    

IF

 @@

ROWCOUNT

 =0 

        

BREAK

;

 

    --

PRINT

(@database_name);

 

    -- SP_EXECUTESQL Switching database in cannot be passed in as a parameter.

 

    --Create Database Roles db_procedure_execute

    

SET

 @cmdText =  

'USE '

 + @database_name + 

';'

 +

CHAR

(10)

 

    

SELECT

 @cmdText += 

'IF NOT EXISTS (SELECT 1 FROM sys.database_principals WHERE name ='

'db_procedure_execute'

')

                        BEGIN

                            CREATE ROLE [db_procedure_execute] AUTHORIZATION [dbo];

                        END ' + 

CHAR

(10);

 

 

 

    --Create Database Roles db_function_execute

    

SELECT

 @cmdText += 

'IF NOT EXISTS (SELECT 1 FROM sys.database_principals WHERE name ='

'db_function_execute'

')

                        BEGIN

                            CREATE ROLE [db_function_execute] AUTHORIZATION [dbo];

                        END' + 

CHAR

(10);

 

 

    --Create Database Roles db_view_table_definition

    

SELECT

 @cmdText += 

'IF NOT EXISTS (SELECT 1 FROM sys.database_principals WHERE name ='

'db_view_table_definition'

')

                        BEGIN

                            CREATE ROLE [db_view_table_definition] AUTHORIZATION [dbo];

                        END ' + 

CHAR

(10);

 

    --Create Database Roles db_view_view_definition

    

SELECT

 @cmdText += 

'IF NOT EXISTS (SELECT 1 FROM sys.database_principals WHERE name ='

'db_view_view_definition'

')

                         BEGIN

                            CREATE ROLE [db_view_view_definition] AUTHORIZATION [dbo];

                         END ' + 

CHAR

(10);

 

    --Create Database Roles db_view_procedure_definition

    

SELECT

 @cmdText += 

'IF NOT EXISTS (SELECT 1 FROM sys.database_principals WHERE name ='

'db_view_procedure_definition'

')

                        BEGIN

                            CREATE ROLE [db_view_procedure_definition] AUTHORIZATION [dbo];

                        END ' + 

CHAR

(10);

 

     --Create Database Roles db_view_function_definition

    

SELECT

 @cmdText += 

'IF NOT EXISTS (SELECT 1 FROM sys.database_principals WHERE name ='

'db_view_function_definition'

')

                        BEGIN

                            CREATE ROLE [db_view_function_definition] AUTHORIZATION [dbo];

                        END ' + 

CHAR

(10);

 

    --

PRINT

 @cmdText;

    -- 

EXECUTE

 SP_EXECUTESQL @cmdText;

    

EXECUTE

 (@cmdText);

 

 

    

    --Give Role db_procedure_execute To grant authorization

    

    

SET

 @cmdText =

'USE '

 + QUOTENAME(@database_name) + 

';'

 

 

    

SET

 @cmdText +=

'INSERT INTO #sql_text(sql_cmd)

                    SELECT  '

'GRANT EXECUTE  ON '

' + SCHEMA_NAME(schema_id) + '

'.'

'

                       + QUOTENAME(name) + '

' TO db_procedure_execute;'

'

                       FROM   sys.procedures s

                       WHERE     NOT EXISTS ( SELECT 1

                                             FROM   sys.database_permissions p

                                             WHERE  p.major_id = s.object_id 

                                                    AND  p.grantee_principal_id = USER_ID('

'db_procedure_execute'

'))'

;

     

EXECUTE

 SP_EXECUTESQL @cmdText;

 

 

 

 

     --Give Role db_function_execute(Scalar Function Authorization)

 

     

SET

 @cmdText =

'USE '

 + QUOTENAME(@database_name) + 

';'

 

 

     

SET

 @cmdText += 

'INSERT INTO #sql_text(sql_cmd)

                     SELECT  '

'GRANT EXEC ON '

' + SCHEMA_NAME(schema_id) + '

'.'

' + QUOTENAME(name) + '

' TO  db_function_execute; '

'  

                     FROM    sys.all_objects s

                     WHERE  SCHEMA_NAME(schema_id) NOT IN ('

'sys'

', '

'INFORMATION_SCHEMA'

')  

                        AND    NOT EXISTS ( SELECT 1

                                                FROM   sys.database_permissions p

                                                WHERE  p.major_id = s.object_id 

                                                AND  p.grantee_principal_id =USER_ID('

'db_function_execute'

') )

                                                AND ( s.[type] = '

'FN'

'

                                                        OR s.[type] = '

'AF'

'

                                                        OR s.[type] = '

'FS'

'

                                                        --OR s.[type] = '

'FT'

'

                                                    ) ;'

        

EXECUTE

 SP_EXECUTESQL @cmdText;

 

 

 

      --Give Role db_function_execute(Table-valued Function Authorization)

      

SET

 @cmdText =

'USE '

 + @database_name + 

';'

 

      

SET

 @cmdText += 

'INSERT INTO #sql_text(sql_cmd)

                       SELECT  '

'GRANT SELECT ON '

' + SCHEMA_NAME(schema_id) + '

'.'

' + QUOTENAME(name) + '

' TO  db_function_execute;'

'

                       FROM    sys.all_objects s

                       WHERE  SCHEMA_NAME(schema_id) NOT IN ('

'sys'

', '

'INFORMATION_SCHEMA'

')   

                          AND    NOT EXISTS ( SELECT 1

                                             FROM   sys.database_permissions p

                                             WHERE  p.major_id = s.object_id 

                                                    AND  p.grantee_principal_id = USER_ID('

'db_function_execute'

'))

                                  AND ( s.[type] = '

'TF'

'

                                        OR s.[type] = '

'IF'

'

                            ) ;    '

 

      

EXECUTE

 SP_EXECUTESQL @cmdText;

 

 

      --View stored procedure definition authorization

      

SET

 @cmdText =

'USE '

 + @database_name + 

';'

 

      

SET

 @cmdText +=

' INSERT INTO #sql_text(sql_cmd)

                       SELECT  '

'GRANT VIEW DEFINITION ON '

' + SCHEMA_NAME(schema_id) + '

'.'

'

                       + QUOTENAME(name) + '

' TO db_view_procedure_definition;'

' 

                       FROM   sys.procedures s

                       WHERE     NOT EXISTS ( SELECT 1

                                             FROM   sys.database_permissions p

                                             WHERE  p.major_id = s.object_id 

                                                    AND  p.grantee_principal_id = USER_ID('

'db_view_procedure_definition'

'))'

 

       

EXECUTE

(@cmdText);

 

       --View authorization for function definitions

       

SET

 @cmdText =

'USE '

 + @database_name + 

';'

 

       

SELECT

   @cmdText += 

'INSERT INTO #sql_text(sql_cmd)

                            SELECT '

'GRANT VIEW DEFINITION ON '

' + SCHEMA_NAME(schema_id) + '

'.'

'

                            + QUOTENAME(name) + '

' TO  db_view_function_definition;'

' 

                            FROM sys.objects s

                            WHERE type_desc IN ('

'SQL_SCALAR_FUNCTION'

', '

'SQL_TABLE_VALUED_FUNCTION'

',

                                 '

'AGGREGATE_FUNCTION'

' )

                                    AND    NOT EXISTS ( SELECT 1

                                             FROM   sys.database_permissions p

                                             WHERE  p.major_id = s.object_id 

                                                    AND  p.grantee_principal_id = USER_ID('

'db_view_function_definition'

'))'

;

 

        

EXECUTE

 SP_EXECUTESQL @cmdText;

 

 

       --View authorization defined in table

       

SET

 @cmdText =

'USE '

 + @database_name + 

';'

 

       

SET

 @cmdText +=

'INSERT INTO #sql_text(sql_cmd)

                      SELECT '

'GRANT VIEW DEFINITION ON '

' + SCHEMA_NAME(schema_id) + '

'.'

'

                      + QUOTENAME(name) + '

' TO db_view_table_definition ;'

' 

                      FROM  sys.tables s

                      WHERE  NOT EXISTS ( SELECT 1

                                             FROM   sys.database_permissions p

                                             WHERE  p.major_id = s.object_id 

                                                    AND  p.grantee_principal_id = USER_ID('

'db_view_table_definition'

'))'

;

    

       

EXECUTE

 SP_EXECUTESQL @cmdText;

 

 

       --View authorization defined by view

       

SET

 @cmdText =

'USE '

 + @database_name + 

';'

 

       

SET

 @cmdText +=

'INSERT INTO #sql_text(sql_cmd)

                      SELECT  '

'GRANT VIEW DEFINITION ON '

' + SCHEMA_NAME(schema_id) + '

'.'

'

                             + QUOTENAME(name) + '

' TO db_view_view_definition; '

'

                      FROM    sys.views s

                      WHERE  NOT EXISTS ( SELECT 1

                                             FROM   sys.database_permissions p

                                             WHERE  p.major_id = s.object_id 

                                                    AND  p.grantee_principal_id = USER_ID('

'db_view_view_definition'

'))'

;

    

       

EXECUTE

 SP_EXECUTESQL @cmdText;

 

 

 

        

WHILE

 1= 1

        

BEGIN

            

            

            

SELECT

 

TOP

 1 @RowIndex=sql_id, @cmdText =  

'USE '

 + @database_name + 

'; '

+ sql_cmd 

FROM

 #sql_text 

ORDER

 

BY

 sql_id;

 

            

IF

 @@

ROWCOUNT

 =0 

                

BREAK

;

 

        

            

PRINT

(@cmdText);

            

EXECUTE

(@cmdText);

 

            

DELETE

 

FROM

 #sql_text 

WHERE

 sql_id =@RowIndex

 

 

        

END

        

            

     

DELETE

 

FROM

 #databases 

WHERE

 database_name=@database_name;

END

     

     

DROP

 

TABLE

 #databases;

     

DROP

 

TABLE

 #sql_text;

 

END