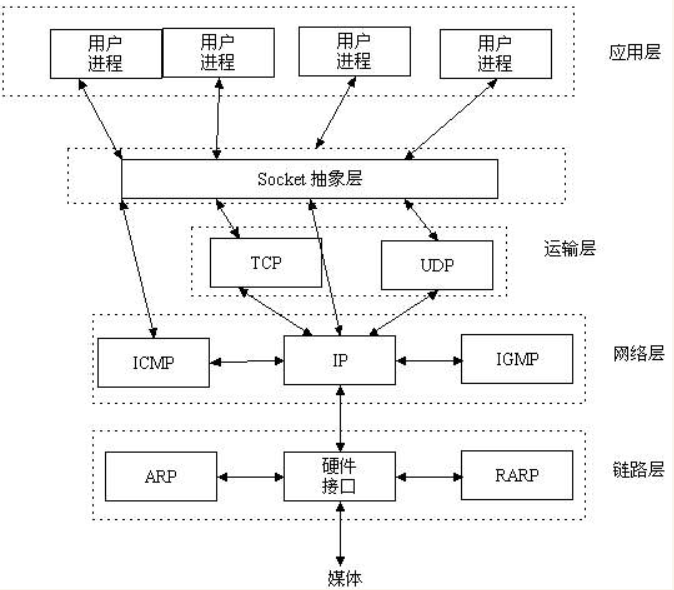 I. Socket sockets
Two programs on the network communicate through a two-way connection to realize data exchange. One end of the connection is called a socket.
Using socket to develop TCP program in java, this method can easily establish reliable, bidirectional, persistent, point-to-point communication connection.
In the development of socket program, the server side uses ServerSocket to wait for the connection of the client. For the java network program, each client is represented by a socket object.
Code examples
2.1 Complete a communication between server and client
Communicate with the client as a server.
The server waits for the connection of the client and sends the data to the client after the connection.
Server
package com.rrs.socketserver;

import java.io.IOException;
import java.io.OutputStream;
import java.net.ServerSocket;
import java.net.Socket;

import org.junit.Test;

/**
 * @author lzx
 * on 2019/9/25.
 */
public class SocketServer {

	@Test
	public void test01() throws IOException {

		System.out.println("socket server start...");
		ServerSocket serverSocket = new ServerSocket(8888);

		Socket socket = serverSocket.accept();
		System.out.println("Client detected socket: " + socket);

		OutputStream out = socket.getOutputStream();

		String mString = "Hello Client";
		byte[] bytes = mString.getBytes();

		out.write(bytes);

		socket.shutdownOutput();
		out.close();

	}

}


Client
package com.rrs.sockerclient;

import java.io.IOException;
import java.io.InputStream;
import java.net.Socket;
import java.net.SocketAddress;

/**
 * Created by lzx on 2019/9/25.
 */
public class SocketClient {


    public static void main(String[] args) throws IOException {

        System.out.println("socket client start...");
        Socket socketClient = null;


        socketClient = new Socket("127.0.0.1", 8888);
        InputStream in = socketClient.getInputStream();
        byte[] bytes = new byte[1024];

        int len = in.read(bytes);

        String msg = new String(bytes, 0, len);

        System.out.println(msg);
    }

}


2.2 Complete picture transmission from client to server
Server server waits for client to send pictures
package com.rrs.socketserver.server;

import java.io.File;
import java.io.FileOutputStream;
import java.io.IOException;
import java.io.InputStream;
import java.net.ServerSocket;
import java.net.Socket;

import org.junit.Test;

/**
 * @author lzx
 *
 */
public class ServerPic {

	@Test
	public void serverPic() throws IOException {

		System.out.println("server start...");

		// Create socket
		ServerSocket server = new ServerSocket(8899);

		// Blocking listening client
		Socket socket = server.accept();

		// Get the input stream
		InputStream in = socket.getInputStream();

		byte[] buf = new byte[1024];
		int len = 0;

		// Reading while writing
		// Write to server disk

		// Get the file output stream
		File file = new File("java.jpg");
		FileOutputStream out = new FileOutputStream(file);

		while ((len = in.read(buf)) != -1) {

			out.write(buf, 0, len);
		}

		System.out.println("Picture Acceptance Completed...");
		
		socket.shutdownInput();
		in.close();
		out.close();
		

	}

}


Client client sends pictures
package com.rrs.socketserver.client;

import java.io.File;
import java.io.FileInputStream;
import java.io.IOException;
import java.io.OutputStream;
import java.net.Socket;

import org.junit.Test;

/**
 * @author lzx
 *
 */
public class ClientPic {

	@Test
	public void clientPic() throws IOException {

		System.out.println("client start...");

		// Create a socket client
		Socket client = new Socket("127.0.0.1", 8899);

		// Send a file from a local read file (read while write)

		// read file
		File file = new File("D:/Desktop/java.jpg");
		FileInputStream in = new FileInputStream(file);

		// Send 1k at a time
		byte[] buf = new byte[1024];

		int len = 0;

		OutputStream out = client.getOutputStream();

		while ((len = in.read(buf)) != -1) {
			out.write(buf, 0, len);
		}
		System.out.println("Picture Sending Completed...");

		out.close();
		in.close();
		client.shutdownOutput();

	}

}