Today, the project is not busy. I want to have a look at the sharding JDBC sub database and sub table. I want to achieve the following:
Discard the xml configuration and use. yml or. properties file + java to configure spring.
Use Druid as database connection pool, open monitoring interface at the same time, and support monitoring multiple data sources.
Independent com.dangdang The sharding JDBC core package of. This package is too old, last updated in 2016. Visual inspection only encapsulates one layer, which is of little significance. I don't think it's necessary to use this package if it's not developed by Dangdang company. (and my actual measurement cannot be used with the latest Druid package, and the insert statement reports an error.)
After a long time, most of the examples on the Internet didn't work. Directly start from scratch, and all components will go directly to the latest version.
  SpringBoot: 2.3.0
  mybatis: 2.1.3
  druid: 1.1.22
  sharding-jdbc: 4.1.1
Note: because you are configuring while looking at the source code (the example on the sharding official website may be that the version problem is basically useless, and the network in GitHub can't be opened), most of the data sources and sharding are configured in java code. Part of the configuration should be simplified to the. YML /. Properties file. If you are interested in optimization, you can send a demo to 116269651@qq.com , thank you.
Introduction to sharding JDBC
Apache ShardingSphere is an open-source ecosystem of distributed database middleware solutions. It consists of JDBC, Proxy and Sidecar (in planning), which are independent of each other, but can be used in a mixed deployment.
Sharding JDBC is positioned as a lightweight Java framework, providing additional services in the JDBC layer of Java. It uses the client-side direct connection database to provide services in the form of jar package, without additional deployment and dependence. It can be understood as an enhanced version of jdbc driver, fully compatible with JDBC and various ORM frameworks.
It is applicable to any ORM framework based on JDBC, such as JPA, Hibernate, Mybatis, Spring JDBC Template or using JDBC directly.
Support any third-party database connection pool, such as DBCP, C3P0, BoneCP, Druid, HikariCP, etc.
Support any database that implements JDBC specification. At present, it supports MySQL, Oracle, SQL server, PostgreSQL and any database complying with SQL92 standard.
Sharding configuration diagram
A simple understanding is shown in the figure below. To configure sharding JDBC is to configure all tables that need to be fragmented. The configuration of tables is mainly the configuration of sub databases and sub tables. Here, you can only divide the database without dividing the tables, or only divide the tables without dividing the databases, or include both the database and the table splitting logic.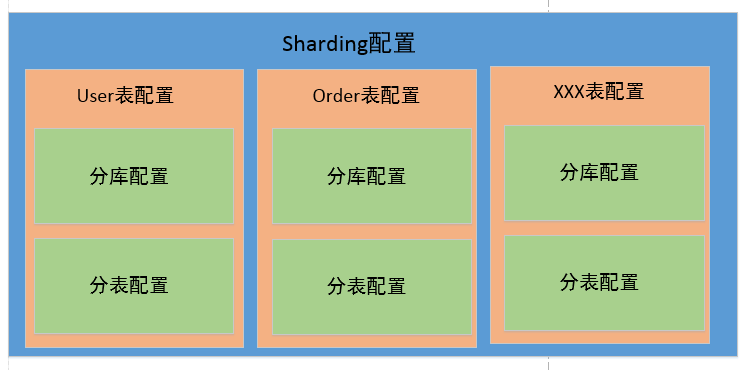 Let's take a look at my project directory structure as follows: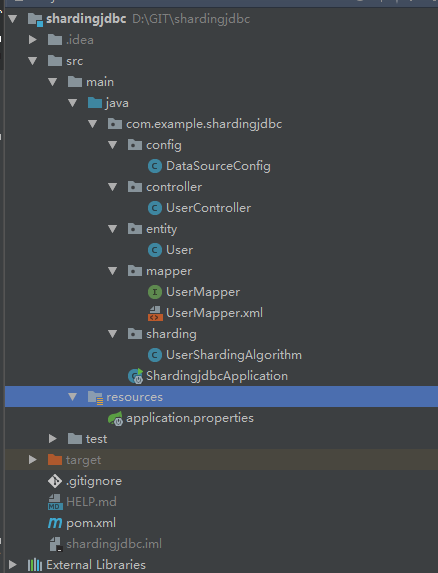 1, POM dependency configuration
The complete pom table is as follows, which mainly depends on MySQL connector Java, mybatis spring boot starter, Druid spring boot starter, sharding JDBC core.
Note: sharding JDBC core version 4.0 + has been promoted to the top project of Apache foundation, and its groupId has changed to org.apache.shardingsphere , before io.shardingsphere .
<?

xml version="1.0" encoding="UTF-8"

?>




<

project 

xmlns

="http://maven.apache.org/POM/4.0.0"

 xmlns:xsi

="http://www.w3.org/2001/XMLSchema-instance"


         xsi:schemaLocation

="http://maven.apache.org/POM/4.0.0 https://maven.apache.org/xsd/maven-4.0.0.xsd"

>


    

<

modelVersion

>

4.0.0

</

modelVersion

>


    

<

parent

>


        

<

groupId

>

org.springframework.boot

</

groupId

>


        

<

artifactId

>

spring-boot-starter-parent

</

artifactId

>


        

<

version

>

2.3.0.RELEASE

</

version

>


        

<

relativePath

/>

 

<!--

 lookup parent from repository 

-->


    

</

parent

>


    

<

groupId

>

com.example

</

groupId

>


    

<

artifactId

>

shardingjdbc

</

artifactId

>


    

<

version

>

0.0.1-SNAPSHOT

</

version

>


    

<

name

>

shardingjdbc

</

name

>


    

<

description

>

Demo project for Spring Boot

</

description

>



    

<

properties

>


        

<!--

<sharding.jdbc.version>3.0.0</sharding.jdbc.version>

-->


        

<

java.version

>

1.8

</

java.version

>


    

</

properties

>



    

<

dependencies

>


        

<

dependency

>


            

<

groupId

>

org.springframework.boot

</

groupId

>


            

<

artifactId

>

spring-boot-starter-web

</

artifactId

>


        

</

dependency

>


        

<

dependency

>


            

<

groupId

>

org.springframework

</

groupId

>


            

<

artifactId

>

spring-tx

</

artifactId

>


        

</

dependency

>


        

<

dependency

>


            

<

groupId

>

mysql

</

groupId

>


            

<

artifactId

>

mysql-connector-java

</

artifactId

>


            

<

scope

>

runtime

</

scope

>


        

</

dependency

>


        

<

dependency

>


            

<

groupId

>

org.mybatis.spring.boot

</

groupId

>


            

<

artifactId

>

mybatis-spring-boot-starter

</

artifactId

>


            

<

version

>

2.1.3

</

version

>


        

</

dependency

>


        

<

dependency

>


            

<

groupId

>

com.alibaba

</

groupId

>


            

<

artifactId

>

druid-spring-boot-starter

</

artifactId

>


            

<

version

>

1.1.22

</

version

>


        

</

dependency

>


        

<

dependency

>


            

<

groupId

>

org.apache.shardingsphere

</

groupId

>


            

<

artifactId

>

sharding-jdbc-core

</

artifactId

>


            

<

version

>

4.1.1

</

version

>


        

</

dependency

>


        

<

dependency

>


            

<

groupId

>

org.projectlombok

</

groupId

>


            

<

artifactId

>

lombok

</

artifactId

>


            

<

optional

>

true

</

optional

>


        

</

dependency

>


        

<

dependency

>


            

<

groupId

>

org.springframework.boot

</

groupId

>


            

<

artifactId

>

spring-boot-starter-test

</

artifactId

>


            

<

scope

>

test

</

scope

>


            

<

exclusions

>


                

<

exclusion

>


                    

<

groupId

>

org.junit.vintage

</

groupId

>


                    

<

artifactId

>

junit-vintage-engine

</

artifactId

>


                

</

exclusion

>


            

</

exclusions

>


        

</

dependency

>


        

<

dependency

>


            

<

groupId

>

log4j

</

groupId

>


            

<

artifactId

>

log4j

</

artifactId

>


            

<

version

>

1.2.16

</

version

>


        

</

dependency

>


        

<

dependency

>


            

<

groupId

>

org.slf4j

</

groupId

>


            

<

artifactId

>

slf4j-log4j12

</

artifactId

>


            

<

version

>

1.7.5

</

version

>


        

</

dependency

>


    

</

dependencies

>



    

<

build

>


        

<

resources

>


            

<

resource

>


                

<

directory

>

src/main/java

</

directory

>


                

<

includes

>


                    

<

include

>

**/*.xml

</

include

>


                

</

includes

>


            

</

resource

>


        

</

resources

>


        

<

plugins

>


            

<

plugin

>


                

<

groupId

>

org.apache.maven.plugins

</

groupId

>


                

<

artifactId

>

maven-compiler-plugin

</

artifactId

>


                

<

configuration

>


                    

<

source

>

1.8

</

source

>


                    

<

target

>

1.8

</

target

>


                    

<

encoding

>

UTF-8

</

encoding

>


                

</

configuration

>


            

</

plugin

>


            

<

plugin

>


                

<

groupId

>

org.springframework.boot

</

groupId

>


                

<

artifactId

>

spring-boot-maven-plugin

</

artifactId

>


            

</

plugin

>


        

</

plugins

>


    

</

build

>





</

project

>
pom.xml