1. what is correlation (association)
1.1 Association refers to the reference relationship between classes. If class A is associated with class B, the referenced class B will be defined as the property of class A.
For example:
t_hibernate_order
t_hibernate_order_item
An order corresponds to multiple orders
  class Order{
	private List<OrderItem> orderItems;
  }
  
  class OrderItem{
	private Order order;
  }
  

  class B{
	private String name;
  }
	  
  public class A{
        private B b = new B;
        public A(){}
   }

hibernate:orm Framework, Operating Database with Object-Oriented Thought
Entity Class - Table
Attribute - field
1.2 Classification of associations: associations can be divided into one-to-one, one-to-many/many-to-one, and many-to-many associations
Relevance is directional
  Order Form, Order Item Form
  select * from t_order t,t_orderItem m where t.oid = m.oid
  and .....
  
  
  class Order{
	private STIRNG OID;
	...
	private Set<OrderItem> OrderItems; 
  }
  
  session.get(Order.class,1)

Be careful:
1. The key points are all on the foreign keys in the database. Please understand the following two sentences of SQL and the one-to-many and many-to-one relationship.
2. select * from Orders where cid=?// This SQL returns 0-n orders corresponding to the customer.
3. select * from Customers where customerId=?//This SQL returns one customer corresponding to the order.
4. Through these two SQL, it is not difficult to see that foreign keys have two purposes here: to find customers'orders, to find customers corresponding to orders.
Entity bag:
Establish one-to-many relationship between customers and orders
<

set 

lazy

=

"

true

"

 

name

=

"

orderItems

"

 

cascade

=

"

save-update

"

 

inverse

=

"

true

"

>


		

<

key 

column

=

"

oid

"

>

</

key

>


		

<

one-to-many 

class

=

"

com.javaxl.three.entity.OrderItem

"

 

/>


	

</

set

>



Order.hbm.xml:
<?xml version="1.0" encoding="UTF-8"?>




<!DOCTYPE hibernate-mapping PUBLIC 
    "-//Hibernate/Hibernate Mapping DTD 3.0//EN"
    "http://www.hibernate.org/dtd/hibernate-mapping-3.0.dtd">




<

hibernate-mapping

>


	

<

class 

name

=

"

com.qiuwenfan.three.entity.Order

"

 

table

=

"

t_hibernate_order

"

>


		

<

id 

name

=

"

orderId

"

 

type

=

"

java.lang.Integer

"

 

column

=

"

order_id

"

>


			

<

generator 

class

=

"

increment

"

 

/>


		

</

id

>


		

<

property 

name

=

"

orderNo

"

 

type

=

"

java.lang.String

"

 

column

=

"

order_no

"

>


		

</

property

>


		

<!-- 
			bag Label
				name:Association attributes of classes currently to be mapped
				cascade:Maintaining relationships
				inverse:Decide who will maintain the relationship
				
			key Label
				column:Column segments corresponding to foreign keys of tables
				
			one-to-many
				class:Full path names of classes corresponding to associated attributes
		 -->


		

<

bag 

name

=

"

orderItems

"

 

cascade

=

"

save-update

"

 

inverse

=

"

true

"

>


			

<

key 

column

=

"

oid

"

>

</

key

>


			

<

one-to-many 

class

=

"

com.qiuwenfan.three.entity.OrderItem

"

>

</

one-to-many

>


		

</

bag

>


	

</

class

>





</

hibernate-mapping

>



Order.java:
package

 com

.

qiuwenfan

.

three

.

entity

;





import

 java

.

util

.

ArrayList

;




import

 java

.

util

.

List

;





public

 

class

 

Order

 

{


	

private

 Integer orderId

;


	

private

 String orderNo

;


	

private

 List

<

OrderItem

>

 orderItems 

=

 

new

 

ArrayList

<

OrderItem

>

(

)

;


	

private

 Integer initChildren 

=

 

0

;

//0 stands for default lazy loading and 1 for mandatory loading


	
	

public

 Integer 

getInitChildren

(

)

 

{


		

return

 initChildren

;


	

}


	

public

 

void

 

setInitChildren

(

Integer initChildren

)

 

{


		

this

.

initChildren 

=

 initChildren

;


	

}


	

public

 Integer 

getOrderId

(

)

 

{


		

return

 orderId

;


	

}


	

public

 

void

 

setOrderId

(

Integer orderId

)

 

{


		

this

.

orderId 

=

 orderId

;


	

}


	

public

 String 

getOrderNo

(

)

 

{


		

return

 orderNo

;


	

}


	

public

 

void

 

setOrderNo

(

String orderNo

)

 

{


		

this

.

orderNo 

=

 orderNo

;


	

}


	

public

 List

<

OrderItem

>

 

getOrderItems

(

)

 

{


		

return

 orderItems

;


	

}


	

public

 

void

 

setOrderItems

(

List

<

OrderItem

>

 orderItems

)

 

{


		

this

.

orderItems 

=

 orderItems

;


	

}


	

@Override


	

public

 String 

toString

(

)

 

{


		

return

 

"Order [orderId="

 

+

 orderId 

+

 

", orderNo="

 

+

 orderNo  

+

 

"]"

;


	

}


	


}




OrderItem.hbm.xml:
<?xml version="1.0" encoding="UTF-8"?>




<!DOCTYPE hibernate-mapping PUBLIC 
    "-//Hibernate/Hibernate Mapping DTD 3.0//EN"
    "http://www.hibernate.org/dtd/hibernate-mapping-3.0.dtd">




<

hibernate-mapping

>


	

<

class 

name

=

"

com.qiuwenfan.three.entity.OrderItem

"

 

table

=

"

t_hibernate_order_item

"

>


		

<

id 

name

=

"

orderItemId

"

 

type

=

"

java.lang.Integer

"

 

column

=

"

order_item_id

"

>


			

<

generator 

class

=

"

increment

"

 

/>


		

</

id

>


		

<

property 

name

=

"

productId

"

 

type

=

"

java.lang.Integer

"

 

column

=

"

product_id

"

>


		

</

property

>


		

<

property 

name

=

"

quantity

"

 

type

=

"

java.lang.Integer

"

 

column

=

"

quantity

"

>


		

</

property

>


		

<

property 

name

=

"

oid

"

 

type

=

"

java.lang.Integer

"

 

column

=

"

oid

"

 

insert

=

"

false

"

 

update

=

"

false

"

>


		

</

property

>


		

<!-- 
			many-to-one : Multi-to-one configuration (because multiple orders correspond to one order)
			name : Refers to the class currently being mapped com.qiuwenfan.three.entity.OrderItem Relevant attributes order
			class : Refers to the category of the associated attribute (full path name)
			column : Here's the foreign key.
		-->


		

<

many-to-one 

name

=

"

order

"

 

class

=

"

com.qiuwenfan.three.entity.Order

"

 

column

=

"

oid

"

>

</

many-to-one

>


	

</

class

>




</

hibernate-mapping

>



OrderItem.java:
package

 com

.

qiuwenfan

.

three

.

entity

;





public

 

class

 

OrderItem

 

{


	

private

 Integer orderItemId

;


	

private

 Integer productId

;


	

private

 Integer quantity

;


	

private

 Integer oid

;


	

private

 Order order

;


	
	

public

 Integer 

getOrderItemId

(

)

 

{


		

return

 orderItemId

;


	

}


	

public

 

void

 

setOrderItemId

(

Integer orderItemId

)

 

{


		

this

.

orderItemId 

=

 orderItemId

;


	

}


	

public

 Integer 

getProductId

(

)

 

{


		

return

 productId

;


	

}


	

public

 

void

 

setProductId

(

Integer productId

)

 

{


		

this

.

productId 

=

 productId

;


	

}


	

public

 Integer 

getQuantity

(

)

 

{


		

return

 quantity

;


	

}


	

public

 

void

 

setQuantity

(

Integer quantity

)

 

{


		

this

.

quantity 

=

 quantity

;


	

}


	

public

 Integer 

getOid

(

)

 

{


		

return

 oid

;


	

}


	

public

 

void

 

setOid

(

Integer oid

)

 

{


		

this

.

oid 

=

 oid

;


	

}


	

public

 Order 

getOrder

(

)

 

{


		

return

 order

;


	

}


	

public

 

void

 

setOrder

(

Order order

)

 

{


		

this

.

order 

=

 order

;


	

}


	

@Override


	

public

 String 

toString

(

)

 

{


		

return

 

"OrderItem [orderItemId="

 

+

 orderItemId 

+

 

", productId="

 

+

 productId 

+

 

", quantity="

 

+

 quantity
				

+

 

", oid="

 

+

 oid 

+

 

"]"

;


	

}


	


}




Dao bag:
DemoDao.java:
package

 com

.

qiuwenfan

.

three

.

dao

;





import

 java

.

util

.

List

;





import

 org

.

hibernate

.

Hibernate

;




import

 org

.

hibernate

.

Session

;




import

 org

.

hibernate

.

Transaction

;





import

 com

.

qiuwenfan

.

three

.

entity

.

Order

;




import

 com

.

qiuwenfan

.

three

.

entity

.

OrderItem

;




import

 com

.

qiuwenfan

.

two

.

util

.

SessionFactoryUtils

;





public

 

class

 

DemoDao

 

{


	

/**
	 * To test for accurate configuration of relational mapping files
	 * 	Explain the use of insert=false, update=false
	 * @param order
	 * @return
	 */


	

public

 Integer 

addOrder

(

Order order

)

 

{


		Session session 

=

 SessionFactoryUtils

.

openSession

(

)

;


		Transaction transaction 

=

 session

.

beginTransaction

(

)

;


		Integer oid 

=

 

(

Integer

)

session

.

save

(

order

)

;


		transaction

.

commit

(

)

;


		session

.

close

(

)

;


		

return

 oid

;


	

}


	
	

public

 Integer 

addOrderItem

(

OrderItem orderItem

)

 

{


		Session session 

=

 SessionFactoryUtils

.

openSession

(

)

;


		Transaction transaction 

=

 session

.

beginTransaction

(

)

;


		Integer otid 

=

 

(

Integer

)

session

.

save

(

orderItem

)

;


		transaction

.

commit

(

)

;


		session

.

close

(

)

;


		

return

 otid

;


	

}


	
	
	
	

/**
	 * To explain the problem of lazy loading (all queries after hibernate 3.0 are lazy loading by default)
	 * 	1,There is a problem when looking up a single proxy object. The proxy object is closed.
	 * 	2,Look for multiple problems, performance problems
	 * @param order
	 * @return
	 */


	

public

 Order 

getOrder

(

Order order

)

 

{


		Session session 

=

 SessionFactoryUtils

.

openSession

(

)

;


		Transaction transaction 

=

 session

.

beginTransaction

(

)

;


		Order o 

=

 session

.

get

(

Order

.

class

,

 order

.

getOrderId

(

)

)

;


		

if

(

o 

!=

 null 

&&

 

new

 

Integer

(

1

)

.

equals

(

order

.

getInitChildren

(

)

)

)

 

{


			Hibernate

.

initialize

(

o

.

getOrderItems

(

)

)

;




//			System.out.println(o.getOrderItems());


		

}


		transaction

.

commit

(

)

;


		session

.

close

(

)

;


		

return

 o

;


	

}


	
	

public

 List

<

Order

>

 

getOrderList

(

)

 

{


		Session session 

=

 SessionFactoryUtils

.

openSession

(

)

;


		Transaction transaction 

=

 session

.

beginTransaction

(

)

;


		List

<

Order

>

 list 

=

 session

.

createQuery

(

"from Order"

)

.

list

(

)

;


		transaction

.

commit

(

)

;


		session

.

close

(

)

;


		

return

 list

;


	

}


	
	

/**
	 * z The data of the main table can not be deleted casually. The corresponding information in the slave table must be deleted before the information of the main table can be deleted.
	 * @param order
	 */


	

public

 

void

 

delOrder

(

Order order

)

 

{


		Session session 

=

 SessionFactoryUtils

.

openSession

(

)

;


		Transaction transaction 

=

 session

.

beginTransaction

(

)

;


		Order order2 

=

 session

.

get

(

Order

.

class

,

 order

.

getOrderId

(

)

)

;


		

for

 

(

OrderItem oi 

:

 order2

.

getOrderItems

(

)

)

 

{


			session

.

delete

(

oi

)

;


		

}


		session

.

delete

(

order2

)

;




//		session.delete(order);


		transaction

.

commit

(

)

;


		session

.

close

(

)

;


	

}




}



DemoDaoTest.java:
package

 com

.

qiuwenfan

.

three

.

dao

;





import

 

static

 org

.

junit

.

Assert

.

*

;





import

 java

.

util

.

List

;





import

 org

.

junit

.

Test

;





import

 com

.

qiuwenfan

.

three

.

entity

.

Order

;




import

 com

.

qiuwenfan

.

three

.

entity

.

OrderItem

;





public

 

class

 

DemoDaoTest

 

{


	

private

 DemoDao demoDao 

=

 

new

 

DemoDao

(

)

;



	

/**
	 * Order, order items added at the same time
	 */


	

@Test


	

public

 

void

 

testAddOrder

(

)

 

{


		Order order 

=

 

new

 

Order

(

)

;

 
		order

.

setOrderNo

(

"Happy shopping"

)

;


		

for

 

(

int

 i 

=

 

0

;

 i 

<

 

6

;

 i

++

)

 

{


			OrderItem oi 

=

 

new

 

OrderItem

(

)

;


			oi

.

setProductId

(

10

+

i

)

;


			oi

.

setQuantity

(

20

+

i

)

;




//			demoDao.addOrderItem(oi);


			order

.

getOrderItems

(

)

.

add

(

oi

)

;


			oi

.

setOrder

(

order

)

;


		

}


		demoDao

.

addOrder

(

order

)

;


	

}



	

/**
	 * Add order
	 */


	

@Test


	

public

 

void

 

testAddOrderItem

(

)

 

{


		Order order 

=

 

new

 

Order

(

)

;

 
		OrderItem oi 

=

 

new

 

OrderItem

(

)

;


		oi

.

setProductId

(

66

)

;


		oi

.

setQuantity

(

66

)

;


		order

.

setOrderId

(

11

)

;


		oi

.

setOrder

(

order

)

;


		demoDao

.

addOrderItem

(

oi

)

;


	

}



	

/**
	 * Lazy loading
	 */


	

@Test


	

public

 

void

 

testGetOrder

(

)

 

{


		Order order 

=

 

new

 

Order

(

)

;


		order

.

setOrderId

(

11

)

;


		order

.

setInitChildren

(

1

)

;


		Order o 

=

 demoDao

.

getOrder

(

order

)

;


		System

.

out

.

println

(

o

.

getOrderNo

(

)

)

;


		System

.

out

.

println

(

o

.

getOrderItems

(

)

.

size

(

)

)

;


	

}



	

/**
	 * Query single
	 */


	

@Test


	

public

 

void

 

testGetOrderList

(

)

 

{


		List

<

Order

>

 orderList 

=

 demoDao

.

getOrderList

(

)

;


		

for

 

(

Order order 

:

 orderList

)

 

{


			System

.

out

.

println

(

order

.

getOrderNo

(

)

)

;




//			System.out.println(order.getOrderItems().size());


		

}


	

}



	

/**
	 * Delete orders and corresponding order items
	 */


	

@Test


	

public

 

void

 

testDelOrder

(

)

 

{


		Order order 

=

 

new

 

Order

(

)

;


		order

.

setOrderId

(

11

)

;


		

this

.

demoDao

.

delOrder

(

order

)

;


	

}





}



Hibernate.cfg.xml configuration:
<!-- One-to-many explanation -->


		

<

mapping 

resource

=

"

com/qiuwenfan/three/entity/OrderItem.hbm.xml

"

 

/>


		

<

mapping 

resource

=

"

com/qiuwenfan/three/entity/Order.hbm.xml

"

 

/>




New orders and items: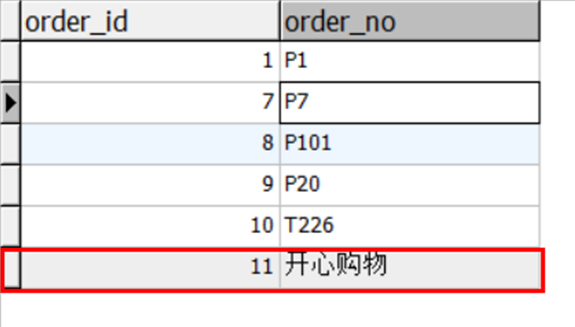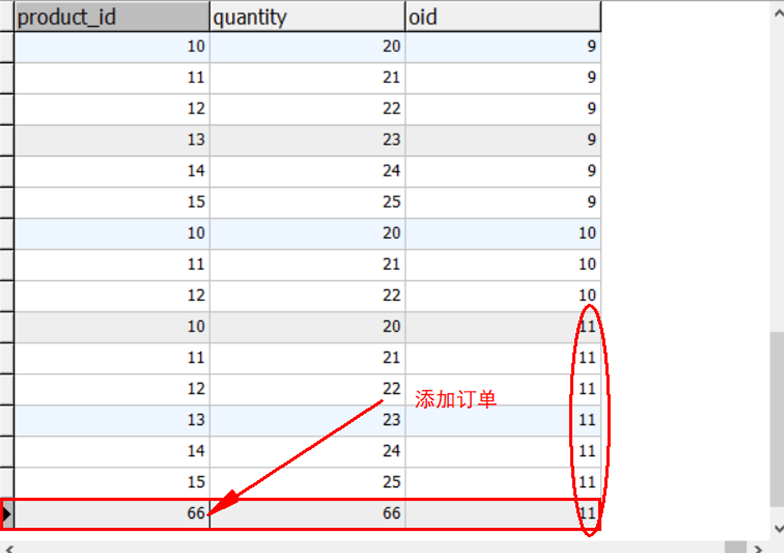 Query orders (lazy loading):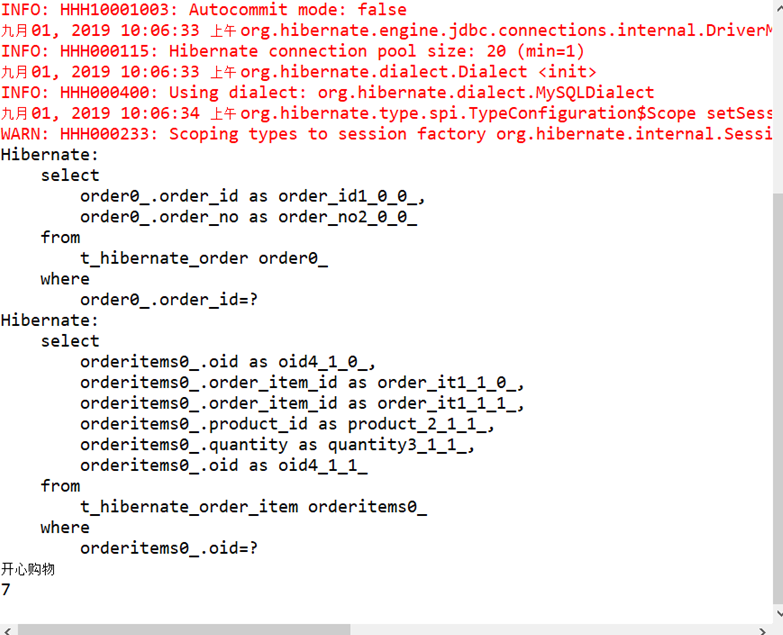 Delete the order and the corresponding order item: